---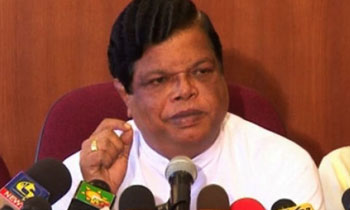 The Joint Opposition (JO) today rejected remarks made by President Maithripala Sirisena that former president Mahinda Rajapaksa had abstained from voting for a no-faith motion against MP Ravi Karunanayake and said the President had been mislead.
He told a news briefing that two no-faith motions were handed over to the Speaker against the MP but they were not taken up for a debate, let alone a vote.
"The first no-confidence motion was submitted when Mr. Karunayake was finance minister over irregularities in budget expenditure. This motion was included in the parliamentary agenda but it was never taken up for debate. The second motion was submitted when Mr. Karunanayake was the foreign minister, over the Central Bank bond scam. This motion was not even included in the parliamentary agenda. When the situation is like this, how can Mr. Rajapaksa congratulate Ravi Karunanayke and say that he didn't vote for the no-faith motion," MP Gunawardana said.
He said Mr. Rajapaksa was someone who instructed the JO to draft and prepare the no-faith motions against Mr. Karunanayake and hand them over to Parliament immediately.
"President Sirisena has been clearly mislead by someone who wanted to make him uncomfortable," he said. (Lahiru Pothmulla)
Video by Sanjeewa