---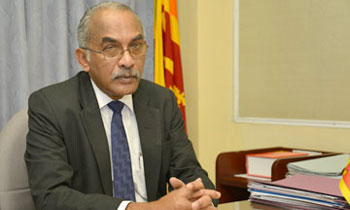 Asoka Peiris, the former chairman of the Delimitation Review Committee said some ministers believed that government officials should act according to their dictates like schoolchildren -- sitting down and standing up when ordered to by their teachers. He said some ministers addressed officials as 'Booruwa'.
He made these comments yesterday (22) while expressing his best wishes to the National delegates seminar held on the theme of "Gamata Deriyak- Ratata Balayak," held with the participation of JVP leader Anura Dissanayake and party secretary Tilvin Silva at the Maharagama Fair premises.
He said he was able to change this attitude among the ministers. He said there might be a reaction tomorrow to his revelations
This was his first speech at a political meeting although he had participated in and spoken at numerous meetings during his 28 years as an administrative officer in public service. "I am still a government servant, but I came here to reveal the truth despite the risk involved," he said.
He said that when he was working in the delimitation committee he had once asked the minister to allow him to speak, as the minister was talking without a break and giving him (Asoka Peiris) no chance to speak
He referred to a former minister, the late Richard Pathirana, who addressed officials in the ministry as "Booruwa", and how he had once responded to the minister on such an occasion .
Speaking further he said the time had come to think of changing the government.
He said those who ruled the country had devastated it. He said those on the platform were capable of leading the country to a better future. He asked the people to prepare for a change in 2020.(Muditha Dayananda)