---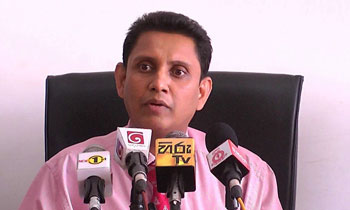 While welcoming the government's decision to enroll SAITM students to Sir John Kotelawala Defence University (KDU), the Government Medical Officers' Association (GMOA) yesterday said it was an important decision.
Presidential Media Unit on Wednesday said this decision was taken at a meeting held with President Maithripala Sirisena where it was decided to enroll about 1000 students who were currently studying at the SAITM to the the medical faculty of KDU after considering their basic qualifications.
GMOA Secretary Dr. Haritha Aluthge told a news conference that this could not be considered as the end of the SAITM issue and added that only a part of the issue had been solved following the said decision.
"It is the government's responsibility to implement these policy decisions into a reality.
The government should also consider about the standards of medical education, and amendments with regard to the prevailing laws relating to the medical education in the country," he added.
He said the latest decision taken by President Sirisena on the SAITM issue was appreciable and added that however this time period could not be regarded as a phase to celebrate victory.
He also said their battle against the SAITM would be even continued in future.
Meanwhile, he said they had handed over a letter to Presidential Secretariat outlining their proposals on resolving the SAITM issue on last Tuesday and added that some of their suggestions were included in the latest government's decision. (Kalathma Jayawardhane)