---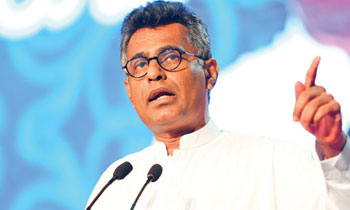 The Government should introduce new regulations to regulate cloud applications like Facebook or WhatsApp to prevent their improper use, Jathika Hela Urumaya General Secretary and Minister Champika Ranawaka said today.
He said the restrictions imposed on social media could be removed now as the tense situation was under control and the Government had taken measures to restrict access to social media to prevent the propagation of hate speech among the people considering the situation in the country.
The minister said the JHU agreed with the Government's decision, as it was a globally followed practice in times of such situations and pointed out that following the bomb blast in Pune in India, the authorities even had to restrict mobile text messages to control Hindu-Muslim riots.
He said the survival of the world's largest companies depended on the Internet and the majority benefited by it.
"There is no future without cloud applications such as Facebook and WhatsApp. The main feature of the 4th Technical Revolution that occurred after 2010 is the collective stream of main technologies and in the present day all technology including robotics, nano tech, quantum or satellite technology is connected with the internet," the minister said.
He said some countries such as China had developed their own social media networks and search engines.
"As the country has not yet reached such level of development, Sri Lanka has to use the present technology, while tightening the regulations to prevent improper usage," the minister said and added that an agile Government was needed to respond to such situations immediately so as to prevent mass scale destruction. (Thilanka Kanakarathna)