---
Says similar to 'Kekille rajuge nadu thinduwa'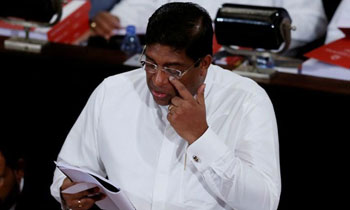 UNP MP Ravi Karunanayake yesterday slammed the 'Marapana Committee' saying it has made a 'Kekille rajuge nadu thinduwa' by recommending that he should be removed from the post of UNP's assistant leader.
He said this during the debate on the presidential commission reports in Parliament.
"I like to tell the UNPers that they should not destroy leaders but should work towards creating good leaders," the MP said and added that UNPers will give a good answer to those who are trying to destroy party leaders and would tell the people to vote for UNP on February 10 2018.
"Past leaders of the UNP were destroyed in different ways. Dudley Senanayake was subjected to mudslinging. President Premadasa, Lalith Athulathmudali and Gamini Dissanayake were shot dead but this had not destroyed the party," he said.
The MP said the facts included in the statement by President Maithripala Sirisena after he received the bond commission report were distorted and in this context what was stated in the bond commission report was that legal action should be taken against him if he had done anything wrong.
He said the commission report had stated that there was no evidence to suggest that he had given any advice to the Central Bank and that the central Bank and commercial banks were not under his purview during the time that the controversial bond issue took place.
"The commission report has never recommended any legal action against me. Therefore this distortion is a result of a conspiracy. I won't accuse the President of distorting facts. However my problem is to find out who is behind this conspiracy," the MP said and claimed that he was subjected to harsh questioning by the bond commission.
He said he was waiting to raise a privilege issue after the President's public statement and the publishing of the bond commission report but the conspirators prevented that as well.
"This is a political assassination and one has to question good governance," the MP said and blamed certain sections of the media which were being used by the conspirators.
"Conspiracies are natural as even the Buddha had to face such conspiracies," he said.
While recalling that he had upheld the practice of good governance, he said he resigned from his ministerial post even though he had played a leading role in bringing the yahapalana government into power. (Yohan Perera and Ajith Siriwardana)