---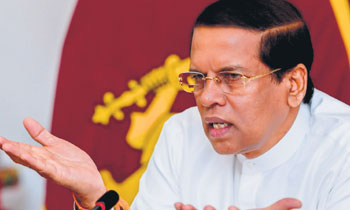 A deeply dejected and disappointed President Maithripala Sirisena stormed out of the Cabinet meeting this morning after making an emotional speech over the personal attacks levelled at him by the certain members of the UNP, a senior Cabinet Minister said.
President naming those UNP Parliamentarians, who are making statements against him, had also said that a country cannot be ruled in this manner.
He has informed the Ministers present that the Presidential Commission was established by him not to attack the UNP, but to punish the thieves and requested the Ministers to state whether they agree to punishing the thieves or not.
The President who arrived for the Cabinet meeting carried with him a Tape Recorder, and showing it to those present he had said" Some may like to listen to my speech and some may not. But I will make this speech and those who wants to listen to it can do so later".
President thereafter had spoken for about 35 minutes continuously and had the speech recorded.
" I left the former government showing my opposition to fraud and corruption, and formed a new government. Is it to continue the same frauds and corruption I ask you. It is true that UNP supporters voted for me, and I owe my gratitude to them. Are the UNP members attacking me to frighten me? Or to chase me out? I do not know whether they are doing these things with a purpose or others leading them to do such things. I walked out that day ignoring the risks I would have to face. Therefore this type of criticisms are not something new to me. Some UNP members are going round saying that the Bond Commission was appointed in order to attack the UNP. I appointed the Bond Commission in order to probe the Bond scam. I have no personal issues with any one. (Sandun A Jayasekera and Ajantha Kumara Agalakada)