---

A surging wall of water caught the island nation of Sri Lanka unaware on December 26, 2004. Even though the giant mass of water eventually receded, it left a trail of tragedy and devastation. One thing was certain: Sri Lanka needed better preparation for natural disasters. In the following year, the Disaster Management Centre (DMC) was established. Its officials have since witnessed many calamities and disasters to overwhelm this island. The

Daily Mirror

in conversation with the DMC's Deputy Director for Early Warning Pradeep Kodippili, discussed shortcomings, challenges, capabilities and potential in terms of disaster management and risk reduction in Sri Lanka.
Excerpts :
Pix by Samantha Perera
PROFILE
Pradeep Kodippili was educated at Kalutara Vidyalaya and the University of Ruhuna where he obtained his BSc special degree in Agriculture. He was employed overseas for seven years in the field of agriculture. Upon returning to Sri Lanka in 2007 he joined the Disaster Management Centre. Kodippili went on to study for his master's degree in Disaster Management in which he obtained a special merit first class degree from the University of Colombo. He has been involved with the disaster management sector for 11 years.

Can you explain the history and functions of the DMC?
The Tsunami was the worst natural disaster to hit Sri Lanka and we were ignorant of such a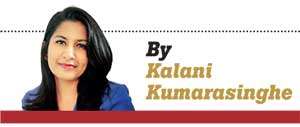 possibility. As a result, we lost 35,000 lives. The Tsunami reached Ampara at 8.30 am and reached Hambantota by 9.15 am. We had a 45-minute window to warn the public and get them to higher ground. The people in Hambantota had no idea of what was happening. These were the circumstances which prompted the establishment of the Disaster Management Centre (DMC).
At its inception, facilities for the DMC were minimal. There was no properly developed early warning system. There were only three early warning towers and telephones for communication in all the 25 Districts. In spite of the limited facilities, we carried out our operations, even during the war, in areas such as Kilinochchi and Mullaithivu. The DMC gradually developed, especially with the establishment of the Early Warning System (EWS) in 2004. Today we have 77 early warning towers around the island under this system.
"The perception of the people plays a significant role. There is no point in receiving the warning if you don't react appropriately"

How does the emergency response system operate?
DMC's prime responsibility is to save the lives of the people. Once we receive the technical data, our responsibility is to disseminate this information to the ground level from the top and to save the public.
The Emergency Operations Centre (EOC) coordinates all response agencies during a disaster to minimise the adverse effects of disasters and is manned by at least 20 persons every hour. There are three units comprising the tri-forces and one police unit in addition to civilians. It is a 24 hour and 365-day operation which is connected to other international organisations and agencies which issue disaster warnings. The Meteorological Department, the Irrigation Department, the National Building Research Organisation (NBRO), the National Aquatic Resources Research and Development Agency (NARA), the Geological Survey & Mines Bureau (GSMB) are also linked with the DMC throughout the day.
We also have the emergency response committee which is a body involved in every emergency operation in the country. We meet with these stakeholders every three months, especially before the monsoon seasons to discuss future plans and operations. NGOs and INGOs too collaborate with us.
The greatest strength for disaster management in Sri Lanka is the National Council. It is represented by the President as the Chairman, The Premier as the Vice Chairman; there are almost 20 stakeholder ministries, 9 Chief Ministers and the Disaster Ministry Secretary. This coalition makes it easier to arrive at decisions and conclusions.

Doesn't its involvement complicate matters relating to disaster management?
The national council is represented by the opposition leader and opposition MPs. Rather than a political entity, the national council is a body established to ensure security and safety of the public. I have observed that every possible factor to develop the disaster management process is deliberated here, without which I believe the disaster management sector would not have developed over these past 12 years since 2005.
"I myself am a victim of the 2004 Tsunami and spent almost three months in a hospital undergoing treatment."

Are there any shortcomings you have observed in issuing disaster warnings?
There are major shortcomings I have observed on part of the public, for instance when they don't heed evacuation warnings. The EWS by design can be activated at any given time but it is important that we receive the technical data at the proper time as well. For instance, if there is an imminent storm, the technical data should be made available by the Met
department accordingly.

Does the DMC receive such data on time?
There have been many developments over the years. But I believe that there should be more. For instance, if there is a threat of a landslide, the National Building Research Organisation (NBRO) would alert the area of a possible landslide. But they are still in the process of developing their capabilities to identify the exact location of the imminent landslide. The focus should be on the all-important window before the impact of a natural or manmade disaster, where response teams can engage to effectively minimise damage to lives and property.
Disaster management, early warning and emergency operations are processes which should be developed over time. However, I expect more support from the ground level. In other words, the support we receive from the villages should improve in order to strengthen the national level operations. For example, if we alert a certain village of a forthcoming disaster and if the message is not carried out to the villagers in time, our efforts serve no purpose. Therefore the channels of information should be developed.
"People usually don't rely on a single early warning system. When an early warning is received through several channels, people are likely to attribute more credibility to the threat"

The DMC has created a self-evaluation method in the case of landslides, while there is also a method of spreading awareness and information through the Police and the tri-forces. The 77 warning towers for storms and tsunami alerts operate in all three languages. VHF/HF communication networks are linked over the 25 districts. A system of information dissemination within the district has also been created. Even though these systems are in place, I believe that they need continuous improvement.

What are the weaknesses you observe on the ground level?
During the 2016 and 2017 floods, we received data from the Irrigation Department as well as the ground level network. Accordingly, we issued evacuation warnings. In the case of the 2017 floods, we had issued the evacuation warning before 8 pm. There was sufficient time for evacuation as heavy rains lashed out only in the early hours of the following morning between 3 and 4 am.
Many residents told us that they evacuated as soon as they heard the Police warnings. Almost 78,000 people saved their lives. However, about 14,000 people were trapped. They felt that they were unable to leave their homes and properties. Some sought refuge in upper storeys of various buildings despite calls for evacuation.
Therefore the perception of the people plays a significant role. There is no point in receiving the warning if you don't react appropriately.
In response to these shortcomings, we have identified the most vulnerable areas and trained residents on how to face similar disaster situations. Evacuation routes and points have also been demarcated and shared with them. If this knowledge we have provided them with is not used at the appropriate time, our functions and purpose here are futile.

What other shortcomings have you observed?
In other countries, we have observed that disaster situations are imprinted in both memory and history. The experiences of one generation are passed on to the next. However, in Sri Lanka, the next generation may not have a clue of what a Tsunami is. We conduct awareness and training sessions all over the island and have noticed that the participation of youth is inadequate. In contrast, awareness projects carried out in schools have been very successful; children are keen to learn about this subject. However, the youth beyond the school age group is very reluctant to participate in any disaster management related activity. The over 30 age group up to 50 years of age are the most likely to participate in disaster management related exercises. As this age group is frequently occupied, there is no transfer or sharing of knowledge. This is a persistent issue.
I myself am a victim of the 2004 Tsunami and spent almost three months in a hospital undergoing treatment. Even today, I share my experiences and knowledge, not only with my children and family but those around me as well. Likewise, the knowledge transfer mechanism needs to evolve further in Sri Lanka.
Youth reluctant to participate in disaster management efforts

Need a system to alert residents in areas prone to inundation

Need to effectively enforce existing laws to make climate change adaptation a success

Which areas have the DMC focused on improving?
We have given more priority during this time for training exercises. Samurdhi officers, Grama Niladhari officers and social workers are being trained at present in a district level. Our objective is to mould them as Trainer of Trainers in villages where they can assemble residents and work with each villager. This has been completed in 16 districts thus far.
The Apadawata Pera Sudanama (Preparation before the disaster) disaster prevention programme was launched recently by Minister Duminda Dissanayake. It involves the accumulation of data in every district. This collection aims to mitigate future disasters through adequate preparation.
In Malwatu Oya, a 12 km stretch that has been blocked, is being cleared before the approaching monsoons in order to prevent inundation, which has hampered lives of many residents in this area. This will ensure that when the spill gates of the Rajangana Reservoir are opened, the residents will be protected if the water passes through without any blockades.

How would you evaluate Sri Lanka's disaster risk reduction capabilities?
Disaster Risk Reduction is a very costly exercise. But prevention of disasters saves us a much heavier cost of lives, property, public funds and ultimately the funds used for compensation of victims. The overall objective of drills and awareness programmes is to acclimatize civilians to disaster management processes. Annually almost 300 drills are conducted. During a national drill, all 77 towers were activated at once and more than 20,000 people were evacuated in one day. We have also participated in an international drill with 28 countries in 2016 November. Some lessons on disaster management have also been included in the syllabuses for school children.

How strong is the DMC in terms of technology?
Disaster warnings must first be issued from the designated technological authorities and departments which overlook specific areas. Once we receive their information, our units are activated and we initiate the process of issuing warnings.
Every early warning tower is equipped with self- solar power generators. We rely on VHF and satellite technology. Satellite technology is however expensive, but human lives are more precious, therefore we utilise this technology. When disasters strike, mobile networks are not reliable. Even though our connections have been prioritised I don't trust that mobile phones are a good medium to communicate in instances of disasters. Therefore we rely on the VHF/HF technology. Our transmission stations in Pidurutalagala, Gonagala, Laggala, Kokkavil and two way communication systems in our mobile units ensure that messages are carried out through our frequencies whenever needed. The SMS and Cell Broadcast messaging systems are utilised to alert the key communicators including media. There is also the mobile application called DEWN: Disaster Early Warning Network. The app is designed to alert the public to any disaster and is free to download.
Disaster-related experiences should be shared in order to transfer knowledge

In other countries, we have observed that disaster situations are imprinted in both memory and history

Data being collected from every area to facilitate disaster risk reduction

What improvements do you propose?
DMC, NBRO, Irrigation Department, the National Disaster Relief Services Centre and the Met Department are all concerned with disaster management. It is important that these entities function under one ministry. I would, however, propose that more disaster management related organisation such as the GSMB and NARA function under one authority or parent body.
We have provided all districts in the coastal belt with warning towers. Similarly, if there was a system to warn residents along the rivers, especially to warn the settlements prone to inundation, it would be a great service. Discussions are underway to establish such a system, together with the Moratuwa.
People usually don't rely on a single early warning system. When an early warning is received through several channels, people are likely to attribute more credibility to the threat. Therefore it is imperative that we have not just one or two alternatives but 7 or 8 alternate warning systems in place, especially in disaster-prone areas.


How do you view Sri Lanka's progress in terms of climate change adaption?
Climate change undoubtedly affects every part of the world. Intensified rains and heavy winds occur more frequently. Human practices are a major contributor to climate change, be it carbon dioxide emissions or deforestation. It is my belief that climate change is worsened by the actions of the Sri Lankan public. Regulations to curb negative effects, therefore, must be in place. For instance, the settlements in river banks have caused major devastation. Deforestation is another severe issue. Forest fires caused by humans are reported too frequently every year. Climate change is a major problem for islands of the world. Sri Lanka needs to effectively enforce the existing laws and regulations in order to make climate change adaptation a success.