---
Following is the full speech delivered by the new National Chamber of Commerce of Sri Lanka President Sujeeve Samaraweera at the 58th Annual General Meeting of the chamber held recently at The Kingsbury Hotel.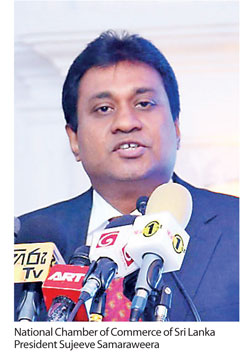 I am honoured to be elected as the 32nd President of this prestigious chamber, the National Chamber of Commerce of Sri Lanka, and I assure with confidence and pride that I will take forward the good work done by my predecessors to take the chamber to greater heights.
I am taking over the presidency of this chamber at a very critical period for the world economy as well as the Sri Lanka economy. Sri Lanka's economy is going through a paradigm shift with the able leadership of President Maithripala Sirisena and Prime Minister Ranil Wickremasinghe, whilst we anticipate a shift in the world economy with Donald Trump taking the presidency of the United States of America.
As Sri Lanka aspires to become a higher middle-income country, it will need to adjust its development model and economic growth, which will likely require continued structural changes towards greater diversification and productivity increases. Although Sri Lanka has excelled in overcoming human development challenges, typical to a low-income country, its service delivery systems in education, health and other areas must now adjust to face new and changing demands typical of a middle-income country. To accommodate these increasing demands, the government needs to increase fiscal revenues in the medium term.
The country is to transit to a more robust, competitive and globally integrated economy and create better-paying private-sector jobs. We need to distribute the benefits of the country's growth to all citizens and increase female labour force participation through education. Boosting green growth, improving environmental management and mitigating natural disasters and the effect of climate change are also priorities.

SME development
Our chamber is very much involved in small and medium enterprise (SME) activities and carries out many programmes to assist the small and medium entrepreneurs to develop their businesses and skills and knowledge.
SMEs play a significant part and contribution to most of the economies of the world. In Sri Lanka, the main driving force of the economy is considered to be SMEs. Approximately 70 percent of the enterprises in the country can be classified as SMEs and they provide approximately 45 percent of the employment in the country. It is noted that many SMEs do not use the latest technology and have limited access to finance, due to collaterals not being available. Further, SMEs are not directly connected to markets especially in the case of exports.
The chamber proposes to develop the required skills in the SME sector but to provide services in the area of finding local and international markets for SME products, which is one of the critical success factors for the development of the sector.
The National Chamber is working hand in hand with provincial and district chambers to address this situation. We launched the Western Province Entrepreneurship Awards for the first time in 2016 on an invitation by the National Enterprise Development Authority. We are making the path for SMEs to come to national level and compete in our flagship event of the chamber - National Business Excellence Awards - to conquer the business world. We urge the government to come forward and support the National Chamber in fulfilling this national task of promoting public-private partnership.

Export development
The National Chamber of Commerce of Si Lanka welcomes the decision of the European Union to grant the GSP Plus facility to Sri Lanka. We understand that it will take another three to four months for the necessary formalities. We believe it will have a positive impact on our exports to Europe, since our export pricing will become competitive and would generate more and more market opportunities. In return, the investment in the country also may go up by making a positive impact on employment generation and gross domestic product (GDP) and narrow the current account deficit.
We are aware that Dr. Harsha De Silva is giving leadership to great business promotion activity called 'economic diplomacy', which is commended by the business community at large. We feel it can be further strengthened by educating our commercial officers operating in other countries. The National Chamber will wholeheartedly support this endeavour and we will forward our proposal to the deputy minister in the near future.
It is vital to keep the cost of production as low as possible so that our products would be competitive in the international market specially competing with Asian countries such as Bangladesh, Vietnam and Myanmar, etc. It is a known fact that our utilities such as water and electricity are higher in price in the region. India, through its foreign trade policy is supporting the export-oriented manufacturing and services in an excessive magnitude and Malaysia is also doing the same to boost and encourage exports. We should look at these examples, analyse and should take constructive steps to improve our economy.
Supporting the export industries by way of encouraging investments, offer them attractive terms to acquire the latest technology, encourage them to invest in patents and branding in overseas markets, ensuring internationally accepted quality infrastructure and quality certification systems within the country are vital for the development of the sector.

Shortages of skilled labour
The shortage of skilled labour continues to be a hindrance across many businesses in manufacturing and services in Sri Lanka. The National Chamber statistics demonstrate that there is a shortfall of 15 to 20 percent in all the industries. In the recent past, the government paid considerable attention to the matter and it is essential that the Sri Lankan government continues to focus on policies forming the much required skilled workface for the industries.
So, it is vital for Sri Lanka to have policies aligned to increase skilled labour availability and to get these skilled labour employed on export-related industries is also paramount important.
It is significant to understand that there should be a change of attitudes of young community to get into skilled jobs; social acceptance for these jobs is at a minimum level. The government, private sector and media in this country at large have a great national responsibility to make this transformation happen.

Necessity for a national trade policy
Ladies and gentlemen, since Sri Lanka is negotiating many preferential free trade agreements at the moment with larger and stronger economies, such as India, China and Singapore, the National Chamber is insisting the fact that it is an absolute necessity to have a national trade policy for Sri Lanka, which will govern and provide directions to any trade agreements to be signed by Sri Lanka with any other country.
It is worth mentioning that India has a well-defined foreign trade policy, which is updated every five years, where the current policy statement is applicable to the period of 2015 to 2020. This document provides the framework agenda for exports and imports of India for the specified time period, keeping aligned with the vision of 'Made in India' of the Indian government to support both manufacturing and services sectors.

Necessity for anti-dumping, countervailing measures
With the background of Sri Lanka entering into three free trade agreements with very strong economies in the near future, it is vital to implement anti-dumping regulations in Sri Lanka. In other words, a common mechanism to protect our domestic industries from unfair trade practices is an absolute necessity.
Most of the emerging economies like India, Brazil and China are already practicing anti-dumping measures with the view of protecting their local industries. Over the past decade, China and India have rapidly increased their use of anti-dumping laws, the world's most dominant form of trade protectionism, against their trading partners.

Women and youth development
Ladies and gentlemen, gender equality and women empowerment play a key role in the 2030 agenda for sustainable development. Positive signs are visible in the number of women in decent employment and taking further steps to narrow these gaps are considered vital. Many women continue to work as family workers and informal workers with limited access to social protection mechanisms. We also appreciate the government initiative of bringing 25 percent allocation for women participation in local government elections.
The National Chamber firmly believes and is committed to support women engagement in business and entrepreneurship. In fact, the National Chamber had the first lady president of a chamber in Sri Lanka. The chamber is engaged in supporting women entrepreneurship development at national level as well as provincial and district level.
It is our belief that women can seriously contribute to the economic development of this country much more than they contribute at present. We need to see more and more ladies in boardrooms in this country contributing to the business development.
Youth entrepreneurship and leadership development are also much needed by our country at this juncture. We should train our younger generation to lead the businesses effectively. Creating the next level business leaders and allowing them to take practical, hands on experience in manufacturing, marketing, sales, financial aspects and entrepreneurship, will ensure the continuation of businesses in the long run.

Private sector's role in anti-bribery, anti-corruption
The government's decision to implement independent commissions is shedding transparency to the key activities of the government and Sri Lanka would be positively recognized by the international community.
Ladies and gentlemen, corruption and bribery are problems for businesses in Sri Lanka. We, as the private sector, support this initiative and make sure that we adopt anti-bribery and corruption policies in our own organisations.
It is good governance and discipline that can bring in fair trade practices, where finally everybody can enjoy his/her share of business.
Ladies and gentlemen, with the said backdrop of facts, I would like to state that the chamber will be implementing a well-focused development programme during my tenure.
Further, we will form a trade facilitation counter for business interaction between the local and international companies. This facility will pave the way for investment opportunities and joint ventures. We will have regular social interactions with our members for our members for networking purpose.
We will continue to work on SMEs by facilitating their business interactions by creating a virtual market place at the chamber to create synergies. This will enable SMEs islandwide to interact with each other and with the corporate world on the business opportunities.
We would like to take the National Chamber activities to an international level by collaborating with similar organisations worldwide and also by facilitating winners. Also, by facilitating the winners of the Business Excellence Awards to participate in internationally recognized award ceremonies.
The National Chamber will continue to expand the work done on skills development and training space by creating a special training and education institute for professional and skilled level trainings for the business community.
Creating a professional youth wing for booming future business leaders.
Managing the chamber with the private sector model.
Developing a way forward strategy up to 2020.
Appointment of an advisory committee comprising of a senior economist and prominent entrepreneurs to guide our chamber activities of the future.
Members support.
Ladies and gentlemen, with the help of the two deputy presidents, honorary secretary, treasurer and the secretariat of the National Chamber, I will continue to serve the members, business community and country at large.