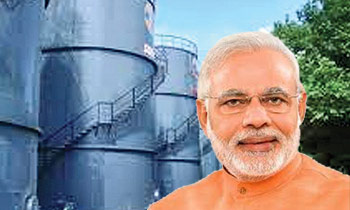 Indian Prime Minister Narendra Modi is to have bilateral discussions with the Lankan leaders on the sidelines of UN Vesak Day celebrations here, on matters of mutual interests and concern, including the proposal for joint development of the oil tank farm in Trincomalee, it is learnt.
Mr. Modi will arrive in the country on May 12 on a two-day visit in view of the UN Vesak Day Celebrations in the country. This is his second visit to Sri Lanka during his tenure. He undertook a state visit to the country in March, 2015, two months after the formation of the new government here. According to informed sources, Sri Lanka is the only country in India's neighbourhood to be visited by him on two occasions. His 2015 state visit was also the first in 28 years by an Indian Prime Minister.
Currently, the two governments have initiated discussions on the development of the Upper Tank Farm area of Trincomalee under a Joint Venture to be formed for the purpose with Lanka Indian Oil Company (LIOC) which is already using a part of the tank farm according to an agreement signed in 2003. Ahead of Mr. Modi's visit, Prime Minister Ranil Wickremesinghe will travel to New Delhi for discussions.
Asked about the current status of the project, LIOC Managing Director Shyam Bohra told Daily Mirror his company had refurbished the Lower Tank farm for Trincomalee Oil Terminal. He said he was awaiting the approval of the Sri Lanka government to develop the Upper Tank Farm area.
"During the past years, LIOC has submitted, from time to time, various proposals to the government of Sri Lanka for development of the Upper Tank farm but the same were not approved. Now, it has been decided at government level that the project shall be undertaken through a Joint Venture. Discussions are being held between the government of India and the government of Sri Lanka," he said.
Responding to the query about the total cost of the proposed project, he said the rehabilitation of 84 tanks in the Upper Tank farm area, along with pipelines, Jetty and other ancillary facilities, would cost around US $ 300-350 million.
"The project will have to compete with ports like Singapore and Fujairah, and this requires meticulous planning and execution. Tanks will be developed in line with the requirement of Sri Lanka," he said.
According to the agreement signed in 2003, the Tank Farm should be given on lease to LIOC for 35 years. (Kelum Bandara)