---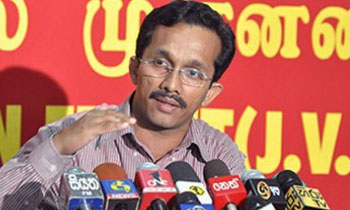 JVP MP Sunil Hadunnetti said yesterday the appointing of a committee headed by Minister Tilak Marapana to recommend action in the event any UNPer was involved in the Central Bank bond scam was worse than appointing the Pitipana Committee to probe bond scam.
He said the minister was the first person in the present government to resign from his portfolio because of his alleged involvement in Avant-Garde incident and was a national list MP appointed by UNP leader Ranil Wickremesinghe.
"Will the minister hold the Prime Minister, who brought him to parliament, responsible for the scam? Mr. Marapana's brother is the lawyer appearing for Perpetual Treasuries Ltd on behalf of Arjun Aloysius. It is like "Horage Ammagen Pena Ahanawa Wage" How we can expect any justice from him," the MP said.
He said any attempt to clear anyone from the bond scam would further establish their involvement in the scam.
"Every attempt made to get away from the scam has been futile. It will further establish their involvement in the scam. If the recommendations of the Bond Commission were implemented, all the politicians and officials held responsible by the commission would be found guilty," the MP said.
He said if the COPE committee had not revealed the scam and made its recommendations, this scam would have been swept under the carpet. (Ajith Siriwardana)