---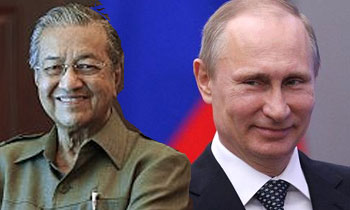 The Pivithuru Hela Urumaya (PHU) yesterday said the government should have invited former Malaysian Prime Minister Dr. Mahathir Mohamed or Russian President Vladimir Putin if it wanted to invite a foreigner to the Independence Day celebrations instead of an English Prince.
Addressing a news conference, PHU Leader MP Udaya Gammanpila said inviting an English Prince sends the message that we are still a colony at heart of the British, though we gained independence 70 years ago.
"Members of the British Royal family are not worthy of being invited to celebrate the independence. They are the ones who took away our independence. If the government wanted to invite a foreigner, it should have invited Dr. Mahathir Mohamed who built the modern Malaysia. If it still wanted a 'white', then it could have invited Russian President Vladimir Putin who is a symbol of patriotism and independence," he said.
He said the United National Party opposed to inviting Prince Charles to the Independence Day celebrations 20 years ago during former President Chandrika Bandaranaike Kumaratunga's tenure.
"In Parliament, MP W. J. M. Loku Bandara criticized this move. However, the same UNP today has made Prince Charles's brother Prince Edward as Chief Guest of the 70-year anniversary celebrations of independence," he said. (Lahiru Pothmulla)