---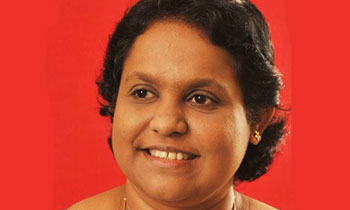 The Mahajana Eksath Peramuna (MEP) yesterday denounced the decision taken by its MP Sriyani Wijewickrama in joining the anti-people government led by the United National Party.
"Ms. Wijewickrama's decision to join the Unity Government, which is in the process of plunging the sovereignty, freedom, democracy and economy of the country into a huge abyss can only be condemned," the MEP said.
It said her decision was prompted by the arbitrary and arrogant action of Digamdulla District MP Wimalaweera Dissanayake during the process of preparing nominations for the local government elections.
"By parliamentarian Wimalaweera Dissanayake's chronic failure to participate in the party leaders' discussions to finalise nominations for local authorities in the Digamadulla District, not only Sriyani Wijewickrama, but also all the party leaders who took part in the nominations committee, were put into great difficulty," the MEP said. "The MEP Central Committee declares that the people of Amaparai District know the true facts, that throughout the Amparai District, from the inauguration in 1957 of the development activities in the Gal Oya Valley to the present, the MEP has participated in active politics at various levels, and with many workers' representatives and that trade unions and trade union leaders affiliated to the MEP have been active."