---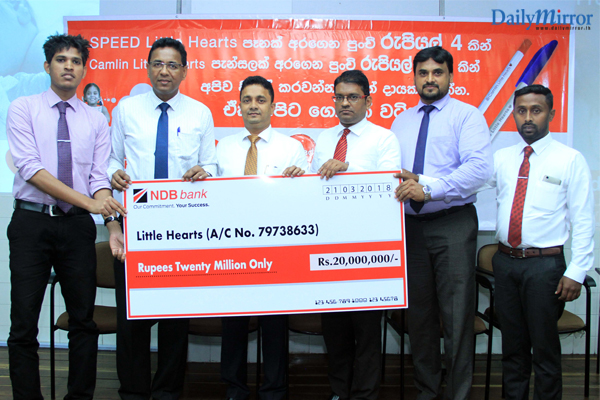 The official handing over of the donation by Asitha Wijerathne – Group Managing Director/Founder, DSL Enterprises (Pvt.) Ltd. to Dr. Duminda Samarasinghe – Consultant Pediatric Cardiologist
In September 2017 DSL Enterprises (Pvt.) Ltd. announced their support in the funding of the Little Hearts Project by introducing the Speed Little Hearts Pens and Camlin Little Hearts Pencils. 20% and 13% of the earnings from the sales of these custom products were to be donated to the project.
Completing the first phase of the donation within a few months, DSL announced the handing over of Rs. 20million to the Little Hearts Fund at a media conference held on 22ndMarch 2018 at the Lady Ridgeway Hospital.
The Little Hearts project was initiated by the Sri Lanka College of Paediatricians, together with several organizations to build the Cardiac and Critical Care Complex at the Lady Ridgeway Hospital. The complex will be dedicated to the task of treating children afflicted with Congenital Heart Diseases (CHD), with which over 3,000 children are being born every year in Sri Lanka.
The Little Hearts Pens and Pencils are a simple and most cost effective way in which the general public can contribute to the project. The pens and pencils are priced at reasonable rates, enabling every kind-hearted person to contribute towards saving a child's life. Being day to day commodities, pens and pencils hardly require consideration at the point of buying. However, since the Little Hearts Pens and Pencils are specifically marketed to raise funds for the Little Hearts project, the customer can make a conscious choice to contribute and be a part of the deserving venture.
Reporting the progress of the project Dr. Duminda Samarasinghe, the Consultant Paediatric Cardiologist at the Lady Ridgeway Hospital stated that over 250 million rupees have been accumulated through donors. It is further supported with another Rs. 170 million pledged from two organizations and Rs. 300 million allocated from the national budget by the Sri Lankan Government. The piling for the complex is set to commence in May 2018. The call for tenders for pile construction has been published in the newspapers on 4th February 2018 and the pre-bid meeting was held on 20th of the same month. "The Sri Lanka Navy will be responsible for construction and the complex is to be handed over to the hospital in November 2019," he added.
"We are humbled and proud to be able to achieve this milestone in our pledge because it is not a mere social responsibility project to us at DSL, but a need of the country. We are grateful to our customers who have loyally bought the Speed Little Hearts Pens and Camlin Little Hearts Pencils, especially the school children who have continued to buy it," stated Mr. Asitha Wijerathne, the Group Managing Director and Founder of DSL Enterprises (Pvt) Ltd. The organization has initiated several CSR projects but the Little Hearts projects remains the most valuable to us. All our internal and external stakeholders have come together to achieve this goal to which we are greatly thankful," he added further.