---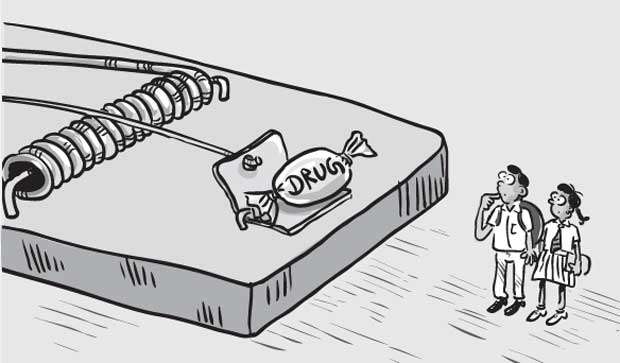 ith Sri Lanka also facing a crisis where even tens of thousands of school children are being deceived into drug addiction by heartless mafias, the intentional community tomorrow marks the United Nations day against drug abuse and illicit trafficking. In a statement, the UN says that by a Resolution approved by the General Assembly in 1987, decided to declare June 26 as the International Day Against Drug Abuse and Illicit Trafficking as an expression of its determination to strengthen action and cooperation to achieve the goal of an international society free of drug abuse. Supported each year by individuals, communities and various organizations all over the world, this global observance aims to raise awareness of the major problem that illicit drugs represent to society.
According to the UN, building on the success of last year, this year's theme is "Listen First - listening to children and youth is the first step to help them grow healthy and safe."It is an initiative to increase support for prevention of drug use. This is based on science and is thus an effective investment in the well-being of children and youth, their families and their communities.

The UN General Assembly held a Special Session on drugs in April 2016. This Special Session marked an important milestone in achieving the goals set in the policy document of 2009 "political declaration and plan of action on international cooperation towards an integrated and balanced strategy to counter the world drug problem", which defined action to be taken by Member States as well as goals to be achieved by 2019.
The outcome document recommends measures to address demand and supply reduction, and to improve access to controlled medicines while preventing diversion. The recommendations also cover the areas of human rights, youth, children, women and communities; emerging challenges, including new psychoactive substances; strengthening international cooperation; and alternative development. The text puts new emphasis on proportionate national sentencing policies and practices for drug-related offences, and features a strong focus on prevention and treatment, the UN says.

In a message UN Secretary General António Guterres says the General Assembly Special Session, urged the international community to take steps to mobilize a multifaceted, collective response to the full range of issues related to drug abuse and illicit trafficking. Governments came together to chart a new path forward. This he believed would be more effective and humane, and leaves no one behind.
He says, the Special Session was a ground-breaking moment that provided a detailed and forward-looking blueprint for action. "Together, we must honour the unanimous commitments made to reduce drug abuse, illicit trafficking and the harm that drugs cause, and to ensure that our approach promotes equality, human rights, sustainable development and greater peace and security" the UN Chief adds.

Mr. Guterres says he knows from personal experience, how an approach based on prevention and treatment can yield positive results. "As Prime Minister of Portugal, I used the flexibility afforded by the three international drug control conventions to introduce non-criminal responses to the possession of drugs for personal use. Greater resources were allocated to prevention, treatment, and social reintegration programs, including harm reduction measures. Portugal now has one of the lowest death rates for drug use in Europe. In 2001, Portugal had the highest rate of HIV amongst injecting drug users in the region; since the introduction of the new policy, this rate, and rates of all sexually transmitted diseases, have decreased dramatically. Overall drug use rates have also fallen" he adds giving an example that Sri Lanka and all countries need to follow.

In Sri Lanka, after democracy and freedom were restored in 2015, it seems that drug smuggling and peddling have increased in what is another abuse of freedom. Reports indicate that in recent years, the drug peddlers appear to be targeting schoolchildren and selling addictive drugs to them in attractive forms. These heartless drug traffickers and peddlers appear to be unconcerned that they are ruining the education, health care and lives of the children and causing misery to their families as well. We hope the new Special High Courts will take up drug smuggling and peddling as offences, so that rigorous jail terms and heavy penalties could be imposed on the drug peddlers though some of them are known to be covered up or protected by politicians.