---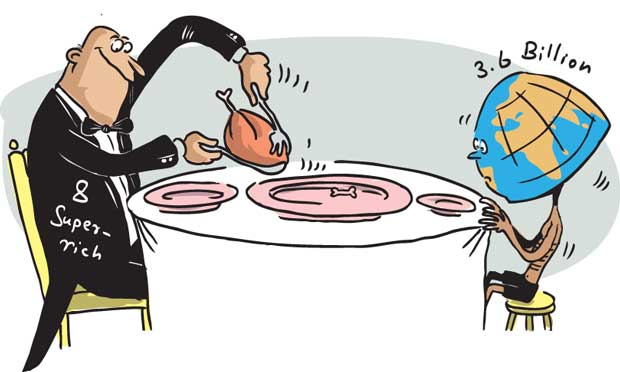 As political and business leaders met at Davos in Switzerland last week for the annual world economic forum, the international social justice movement Oxfam shook the world with a report showing how the gap between the rich and the poor has widened to obscene proportions.

The report came as the new United States President Donald Trump in his inaugural speech last Friday, repeatedly proclaimed that his priorities would be America first, America first and America first. History has shown that self-centredness does not work and often leads to self-destruction. All religions underline the need to work for the common good and to be other-centred. At an inter-faith meeting after the inauguration, all religious leaders fervently prayed for Mr. Trump, but going by what he is saying in the first few days, the new president appears to be getting more recklessly arrogant and has even declared war on the media. His spokespersons appear to be confusing facts with claims and inventing trump lies such as alternative facts.

Oxfam says eight super-billionaires own the same wealth as the 3.6 billion people classified as the poorest half of humanity. The eye-opening report which must strike the conscience of humanity is fittingly titled, 'An economy for the 99 per cent'. Big business and the super-rich are aggravating the inequality catastrophe by dodging taxes, driving down wages and using their power to influence political leaders. Oxfam has called for fundamental change in the way various countries manage their economies so that they work for all people.

Oxfam's Executive Director Winnie Byanyima says, "It is obscene for so much wealth to be held in the hands of so few when one in 10 people survives on less than $2 or about Rs.300 a day.

In one of the most staggering parts of its report, Oxfam says the richest are accumulating wealth at such an incredible rate that the world could see its first trillionaire in 25 years. What does that mean? Such a human or inhuman being would need to spend $1 million every day for 2738 years to spend $l trillion.

Between 1988 and 2011 the incomes of the poorest 10 per cent increased by just $65 a person, while the incomes of the richest one per cent grew by $11,800 a person --182 times as much.

Women, who are often employed in low-pay sectors, face high levels of discrimination in the work place and women who take on a disproportionate amount of unpaid care work often find themselves at the bottom of the pile.

According to Oxfam, Corporate tax dodging costs poor countries at least $100 billion every year. This is enough money to provide an education for the 124 million children who are not in school and fund healthcare interventions that could prevent the deaths of at least six million children every year.

In terms of a long-tern solution, Oxfam says, Governments are not helpless in the face of technological change and market forces. If politicians stop obsessing with GDP, and focus on delivering for all their citizens and not just a wealthy few, a better future is possible for everyone. Its blueprint for a more human economy includes -- Governments end the extreme concentration of wealth to end poverty; Governments should increase taxes on both wealth and high incomes to ensure a more level playing field and to generate funds needed to invest in healthcare, education and job creation.

Oxfam has said Governments need to cooperate rather than compete. Governments should work together to ensure workers are paid a decent wage and to put a stop to tax dodging and the race to the bottom on corporate tax. It says Governments need to support companies that benefit their workers and society rather than just their shareholders. For instance, the multi-billion Euro Company Mondragon is owned by its 74,000–strong workforce. All employees receive a decent wage because its pay structure ensures that the highest paid member of the staff earns no more than nine times the amount of the lowest paid.

Governments must ensure economies work for women. They must help to dismantle the barriers to women's economic progress, such as access to education and the unfair burden of unpaid care work. Oxfam is also calling on business leaders to play their part in building a human economy.

In Sri Lanka, the National Government needs to take these issues and recommendations into consideration when implementing the plans for a sustainable, all-inclusive green economy and poverty alleviation.