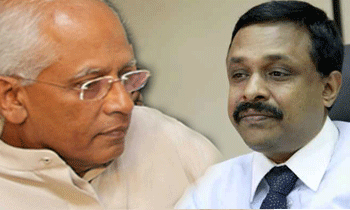 Former presidential secretary Lalith Weeratunga and former director general of the Telecommunication Regulatory Commission (TRC), Anusha Palpita were sentenced to three years rigorous imprisonment after being found guilty to the charge of misappropriating Rs.600 million belonging to the TRC and using it to distribute 'Sil Redi' during the 2015 presidential election campaign.
Colombo High Court Judge Gihan Kulatunga also imposed a fine of Rs.2 million on each of the convicts and ordered to pay Rs.50 million to the TRC as compensation.
The Attorney General indicted Mr. Weeratunga and Mr. Palpita on three counts of committing criminal misappropriation of TRC funds amounting to Rs.600 million to distribute 'Sil Redi' contravening the Telecommunication Act, No. 25 of 1991 during October 30, 2014 to January 5, 2015.
The prosecutors alleged that the funds referred to had been remitted to a bank account maintained by the former president Mahinda Rajapaksa's secretary Weeratunga.
Before the sentenced was passed, they made dock statements denying the allegations levelled against them and told the Court that they were innocent. (Manopriya Gunasekera)
Video by Courts Prasanna, RM