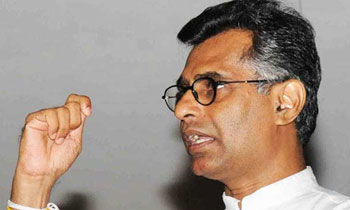 Though media reports said the Sri Lanka Podujana Peramuna (SLPP) obtained 44.65 per cent votes at the recent Local Government Election, it had actually received only 40 per cent votes, Jathika Hela Urumaya General Secretary and Minister Champika Ranawaka said yesterday.
He said media institutions had miscalculated the valid vote count as 11,069,417 but it should be corrected as 12,214,901 when it included the valid votes obtained by independent parties.
Minister Ranawaka said most of the media institutions had miscalculated the sum by taking into consideration only the valid votes received by the main parties including Sri Lanka Podujana Peramuna, United National Party (UNP), Sri Lanka Freedom Party (SLFP), United People's Freedom Alliance (UPFA), Janatha Vimukthi Peramuna (JVP) and Tamil National Alliance (TNA).
Therefore the Minister said the SLPP had obtained 40.66 per cent votes while the UNP had obtained 29.40 per cent.
He said both SLFP and UPFA had obtained a total of 12.38 per cent votes and JVP had obtained 5.8 per cent of the votes.
Therefore, he said though the former president Mahinda Rajapaksa speaks of forming a government he had only received 40 per cent votes but the UNP and SLFP unity government had obtained 42 percent votes at the LG elections.
He added that the parties that contested under the mark of Swan during the previous presidential election had received a total of 51 per cent votes at the recent LG election.
According to the results Minister Ranawaka said it was clear that the people had not moved away from the January 8, 2015 public mandate as such it is now essential to implement a national programme to unite the main two parties and take adequate actions to prevent clashes in other supporting parties. (Thilanka Kanakarathna)