---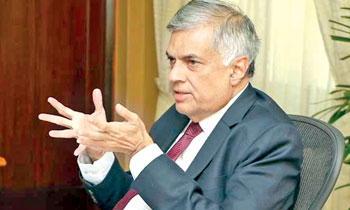 The recent incidents in Kandy have created new challenges to the government locally and in the international level, Prime Minister Ranil Wickremesinghe said.
Prime Minister Wickremesinghe came up with this sentiments at meeting held with government officials on the recent violence in the Kandy District on Saturday.
"We thought the major challenge which the country had to face was the drought which crippled the agriculture sector but incidents in Kandy have posted challenges in the international levels as well" the Prime Minister said while highlighting that country's image has been tarnished .
" We have been expecting a boom in the tourism industry but in the wake of disturbances in Kandy we don't know whether we could achieve it as expected," he said. He said revenues of tourist industrialists could decline.
The Prime Minister said all these will have to be looked into. "A commission to look into the matter alone is not sufficient as one has to look into repairing the damages. We have to repair the damages now as we cannot wait till the commission report comes out to all that " he also said while assuring that compensation will be paid to the families of those who were killed in the clashes and those whose houses and business establishments were damaged. It revealed in this meeting that nearly 465 houses, business establishments and vehicles were destroyed and damaged by the violence. Nearly 86 has been destroyed, 196 partly damaged while 182 have suffered minimum damages.
Mr. Wickremesinghe assured that those who were behind the violence will be revealed soon. He said the police have also begun investigations on the postings on social media and the initial reports have disclosed that two students in two leading schools have been behind those. In addition he said some men had also made statements which are against their respective religions.
He urged the Maha Sangha and other religious leaders to play a role in educating people on unity and coexistence. The Prime Minister said government is committed towards maintaining religious freedom in the country.
Coming up with a bit of history the Prime Minister said it was King Rajasinghe II who brought Muslims to Akurana. " Muslim's never came and settled in the area using force" he said.
Ministers Lakshman Kiriella, Rauff Hakeem, Ranjith Maduma Bandara and M Abdul Haleem also participated in the meeting. (Yohan Perera and J A L Jayasinghe)