---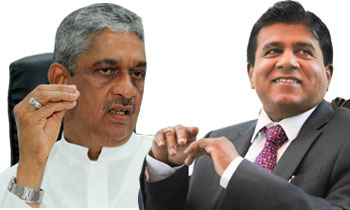 The joint opposition (JO) today urged the government to take a similar decision on Field Marshal and Minister, Sarath Fonseka as that taken when it removed Minister Wijeyadasa Rajapakshe from his portfolio.
MP Prasanna Ranatunga said the Minister Fonseka's statement on (retired) General Jagath Jayasuriya was in stark contrast to the statement made by President Maithripala Sirisena.
"It is doubtful whether the minister was plotting to betray the soldiers by accepting money from the LTTE Diaspora. We feel that he made his statement with the awareness of the President and the Prime Minister. If Minister Fonseka was removed, people will realise that the government was not involved in this controversy," the MP told a news briefing.
He said the JO was contemplating whether it should submit a no-confidence motion against the minister with regard to the statements he made on Gen. Jayasuriya.
The MP said JO party leaders would meet tomorrow in Parliament and a final a decision on the no-confidence motion would be taken at the meeting.
"We do not trust him. He contradicts the President's statements and attempts to betray the country," the MP said.
He said the minister should not discuss his personal matters in public and said if any soldier had committed a crime, the minister should have taken action against them at the time he was Army Commander. (Lahiru Pothmulla)