---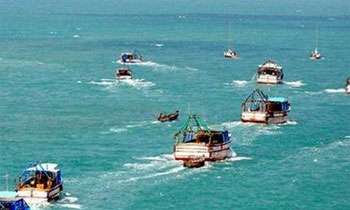 As a part of efforts to keep Tamil Nadu fishermen from poaching in Sri Lanka's territorial waters, the Indian government has allocated US $ 56 million to dismantle bottom trawling boats and replacing them with new deep sea liners, it is learnt.
This has been done consequent to talks with the Sri Lankan government on the need to discourage Tamil Nadu fishermen from unlawfully engaging in fishing in the Palk Strait.
According to sources, 513 applications had been received by the Indian Government as of March 31 from owners of bottom trawlers who wished to replace them with deep sea liners.
In India, a model design for the vessel has been developed by the Central Institute of Fisheries Technology and Cochin Shipyard Ltd after consultation with all stakeholders.
A global advertisement has been floated seeking Expressions of Interest from the boat yards for participation in the scheme. A total of 59 interested companies applied and 18 yards were chosen for the first phase. Letters of Intent were offered to nine potential yards.
It is learnt that construction work on two new fishing harbours at Mookaiyur and Kunthukal in Tamil Nadu are progressing smoothly to take pressure off Palk Bay. The Mookaiyur harbour is expected to be completed by March 2019. Work on the construction of a fish landing centre at Kunthukal in the Ramanathapuram District commenced in June 2018.
A scheme for the use of seamless communication for fishermen is now under implementation by Tamil Nadu Government with World Bank assistance. The construction of communication towers for this project is expected to be completed by July 2018. Over fifteen thousand 5W handsets and two thousand five hundred 25W handsets have been delivered and are presently being distributed to fishermen.
Additionally, trials of the transponders developed by ISRO using the GSAT-6 under a scheme proposed by MHA, GOI has been conducted in Tamil Nadu and Gujarat in collaboration with the Indian Navy. The Government of Tamil Nadu has identified 550 fishing boats to be fitted with transponders. Upgraded transponders are being installed in the fishing boats from various coastal districts of Tamil Nadu.
Capacity building programmes for fishermen for deep sea fishing using long line and gill nets are being underway with the help of CIFNET. It is proposed to give training to 500 selected beneficiaries (10-15 per batch) through CIFNET Cochin and Chennai. They will be given off-shore hands on training including training on how to use these instruments. So far 14 batches (193 fishermen and 4 officials) have been trained by CIFNET in Tuna handling and deep sea fishing, sources said.(Kelum Bandara)