---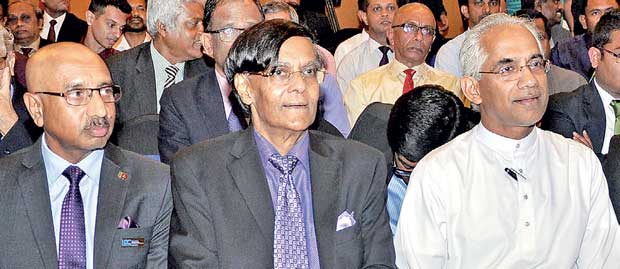 From Left: ICCSL Chairman Keerthi Gunawardena, Professor Mohan Munasinghe and Public Enterprise Development Deputy Minister Eran Wickremaratne Pic By Nisal Baduge
By Supun Dias
The International Chamber of Commerce Sri Lanka (ICCSL), which has been advocating market and economic reforms since its inception, reiterated its commitment to focus on consulting closely with the government and various other stakeholders in implementing Public Private Partnerships (PPPs) this week.

"We have advocated for FTA's, PPP's and market reforms as it would help the country to move forward whilst creating opportunities for our next generation. We are looking forward to work closely with the government to implement these strategies with our consultations," said ICCSL Chairman Keerthi Gunawardane. He also pointed out that initiatives carried out by the chamber have acted as building blocks in the country's overall strategy to promote economic growth through trade.

Deputy Minister of State Enterprise Development Eran Wickremaratne who graced ICCSL's 50th Annual General Meeting as the Chief Guest, commended the efforts and the initiatives taken by ICCSL in promoting market reforms to help the country move forward by creating opportunities in all sectors. Speaking about converting state-owned enterprises to PPPs, he said "We as the government have changed various projects implemented by the previous administration which were called white elephants, with more value being added in to them. For example, the Hambantota Port."
Founded in 1919, ICC is the world's largest business organization which represents private-sector views to national governments and intergovernmental bodies around the world. It advocates for free trade and the market economy, working through a network of national committees and direct members in over 130 countries.

ICC was awarded the highest level of consultative status with the United Nations (UN) in 1946, and since then has represented the private sector by engaging in a broad range of activities with the UN and its specialized agencies .
This year was significant for ICCSL, as the International Chamber of Commerce (ICC) Academy made Sri Lanka the first country to sign a commercial agreement with the academy through its e-learning platform, through which they expect to enhance the trade finance sector.

The two certification programmes introduced were Global Trade Certificate (GTC), an entry-level certification aimed at junior practitioners, and the Certified Trade Finance Professional (CTFP).