---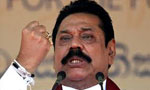 Former President and Kurunegala District MP Mahinda Rajapaksa yesterday said that if anyone found the US$18 billion that the government alleges he has stored in secret offshore accounts, he would use it to remove the tax imposed on medicine and use the money to give relief to patients.
Addressing the media at a ceremony held at Nelum Mawatha, the former President said that it was not fair to impose taxes on medicines and hospital charges. Those facilities should be given to people without charging a tax, he said. "Accruing tax from patients is an inhuman act," he said.
"This government has spent more than seventeen months trying to find my alleged secret offshore accounts," he said.
While rejecting claims that such offshore accounts existed, the former president said if the government found any accounts connected to him the whole amount will be credited to the government.
"The upcoming budget would provide the same kind of relief that the public was given in the last budget by this government," he said.
"We are not making these accusations as if we have just awoken from our sleep. We are making these accusations based on what we have observed about this government," Rajapaksa said. (Chaturanga Pradeep)