---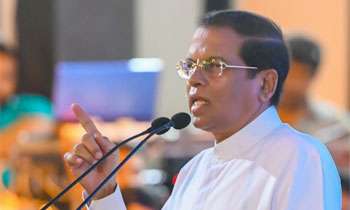 For the first time in Sri Lanka's judicial history I have nominated the most senior and experienced Supreme Court Judge to the post of Chief Justice, President Maithripala Sirisena said.
He said this at a ceremony held at 'Ape Gama' in Battaramulla where letters of appointment were handed over to Regional Forest Officers and the Productivity Awards of the Mahaweli Development and Environment Department.
The President said in several instances in the past the Heads of State had appointed Chief Justices not on merit but on political, personal or party considerations.
"The Supreme Court judges met me soon after I returned from Seychelles early this week and urged me to nominate the most qualified and senior judge of the Supreme Court as the Chief Justice. They said by doing so the career judges would nurse the confidence that they too will stand the chance of being appointed to the post sans undue influence," he said.
He said he did not submit several names to be considered for the post of CJ but only the name of an official who had served the judiciary for 38 years and 11 months having served as a President of a Labour Tribunal and risen from the ranks to Sri Lanka's apex court. (Sandun A Jayasekera)