---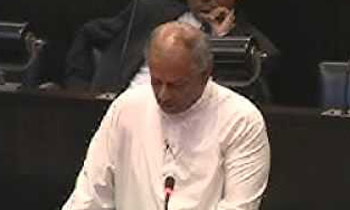 Joint Opposition MP Dinesh Gunawardena said yesterday the government had distributed houses built by the previous regime to the Meethotamulla victims even though former President Mahinda Rajapaksa and former Defence Secretary Gotabaya Rajapaksa were blamed for the disaster.
He said the present government had stopped the housing project initiated by the previous government for the past two years and added that they should take the responsibility for it.
Megapolis and Western Development Minister Patali Champika Ranawaka responded saying the housing project initiated by the previous government was not sustainable.
"The Urban Development Authority (UDA) had faced a grave crisis to continue the project as it was planned to be a Rs. 210 billion project whereas a debenture had been issued initially, only for Rs. 10 billion.
Mr. Gunawardene said the Disaster Management Ministry had been slow to react to the calamity at Meethotamulla and asked what the Flying Squad of the Disaster Management Centre (DMC) had been doing during the time.
He said there should be a stable mechanism to address the garbage crisis and added that a special legal mechanism and a central institute should be set up in this regard.
Mr. Gunawardane said the government should heed the warning of the Japanese experts with regard to the likely methane explosion at the Meethotamulla garbage dump.
The minister said there was no such threat as the methane level was below the level that could trigger an explosion. (Ajith Siriwardana and Yohan Perera)