---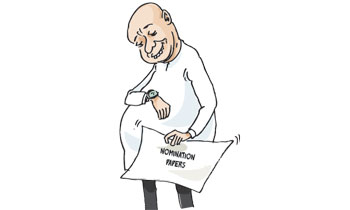 A candidate of the forthcoming provincial council election had spent the night in his garden while he waited for the arrival of the auspicious time for him to leave his residence for the signing of the nomination papers on the instructions of an astrologer.
The candidate, who is an ardent believer in horoscopes and working according to auspicious times, consulted an astrologer who attends to the needs of his family and told him that as all the leading politicians of the country have faith in astrology he wanted him to search for an auspicious time for him to sign the nomination papers.
He had boasted about his idea to some of his close friends as well.
The astrologer, who had been very understanding, gave the candidate two auspicious times, one at 1.37 a.m on the day of signing the nomination papers and the other at 8.00 a.m, which he said was the second best time to leave home.
The astrologer had also briefed the candidate about the importance of avoiding the "Rahu Kalaya" or the inauspicious time belts in fixing the correct times and also cautioned him that ignoring these instructions would bring with it malefic effects.
Therefore, the candidate decided on the first time slot as the most auspicious time and rising up in the early hours of the morning he got dressed set out of the house at the preferred auspicious time indicated by the astrologer, which was at 1.37 a.m.
He then proceeded to sit outside in the garden until the time arrived for the election office to open in order for him to go and sign the nomination papers. His actions naturally made it difficult for anyone at home to get any sleep knowing that the candidate was breaking rest just outside the front door.