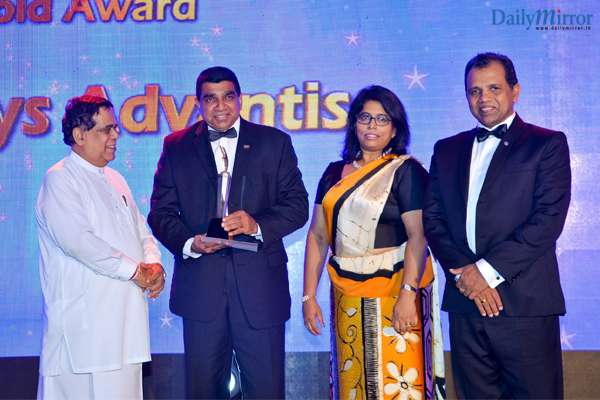 Hayleys Advantis Limited, the transportation and logistics arm of Hayleys PLC,won Gold at the recently concluded CILT Sri Lanka National Logistics and Transport Excellence Awards – 2018. The event organized by the Chartered Institute of Logistics and Transport (CILT) Sri Lanka, recognized individuals and corporates that have made exceptional contributions to the development of the Sri Lankan transportation and logistics industry.
Commenting on the Gold Award, Mr. Ruwan Waidyaratne, Managing Director,Hayleys Advantis Limited,said, "It is indeed an honour to be recognized by our eminent peers at this prestigious event. It is a validation of our unique approach to logistics and our concerted efforts to elevate the local industry to be acompetitor on the world stage. It is also a recognition of the hard work and dedication of our employees who consistently strive to meet the needs of our customers."
A customer oriented company with a focus on innovation to reach new horizons, Hayleys Advantis has the widest end-to-end logistics service offerings in Sri Lanka. Strengthened by the experience and knowledge of its workforce the company continues to overcome challenges to meet and exceed the expectations of its customers thus securing its position as an industry leader.
Mr. Waidyaratne went on to say, "We are proud of the lasting impact we have made towards uplifting the logistics industry in Sri Lanka, by investing in people and technology development. We will continue to focus on developing local expertise to facilitate the government initiative of establishing Sri Lanka as a logistics hub for the Asian region."
Driven by a new purpose to Inspire, Connect and Enrich, the company is making significant changes in the logistics landscape across Sri Lanka. The investments made by Hayleys Advantis over the years in terms of facilities development, acquisition of unique equipment and skill enhancement, has enabled the local logistics industry to facilitate large scale logistics projects, which would otherwise have required foreign expertise. Some of these projects include,the movement of heavy transformers and windmills for national electrification projects and the movement of construction equipment to rural parts of Sri Lanka for national infrastructure development projects. The company also partners with diverse private sector clients providing sea, air and land cargo services, facilitating local and global trade. In recent years, the company has expanded its service offering to diverse countries across the region with the aim of solving complex logistics needs of the region.
Hayleys Advantis is Sri Lanka's most diversified transportation and logistics provider with six decades of experience and operations spread across the Asian region. Backed by the blue chip multinational conglomerate Hayleys PLC, Advantis is at the forefront of the logistics industry providing end-to-end solutions covering air, land and sea. It is committed towards being an innovator in the industry, setting the pace and shaping the logistics category.