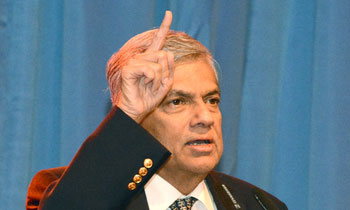 The government will soon correct itself speedily and deliver what the people need just after the Sinhala and Hindu New Year, Prime Minister Ranil Wickremesinghe said today
The Prime Minister expressed these sentiments at the opening of the new belfry and the golden fence around the sacred Bodhiya at Sri Anandaramaya in Kegalle.
"We said we would do many things. We were not able to implement some of the things as promised and could not complete other programmes we started. However people wanted things done fast. This is why they rejected us at the last local government election. People actually gave us a signal. Therefore we have to correct ourselves without delay," the Prime Minister said.
He said the government had already fixed a plan of action to deliver what the people want. The first one he said is to make essential goods and services available at affordable prices. Also he said employment opportunities had to be created as soon as possible while more investments should be brought in. He added that it was essential to expedite the development of infrastructure facilities. " We will implement all these plans rigorously after the Sinhala and Hindu New Year," he added.
Referring to the recent clashes in Kandy, Mr. Wickremesinghe said the riots had resulted in people of other religions losing their trust on the majority Buddhists. "It is not possible to safeguard Buddhism if others lose their faith on Buddhists, " he also said.
State Minister of Defense Ruwan Wijewardene said it is essential to develop temples in villages. "Buddhism could be safeguarded only if temples in the villages are developed," he said.
The Anu Nayaka Thera of the Ramanya Chapter most Venerable Waragoda Premaratana Thera said Sinhala Buddhist will have to overcome some challenges which they should overcome in the future. He said people should focus more on spiritual development mire than financial development. "People focus more on their financial development rather than spiritual development. Some parents encourage their children to go for tuition rather than encouraging them to go for their Sunday school lessons," he said.
President of Amarapura Maha Sanga Sabha Venerable Gamthune Assaji Thera said some VIPs does not know how to engage in religious observances in the proper manner. " Some VIPs does not know how to resite gathas. I have to say these things today as these VIPs who run the country does not seek the advise of maha sanga though they are bound by the tradition to do it" the Thera said.(Yohan Perera)