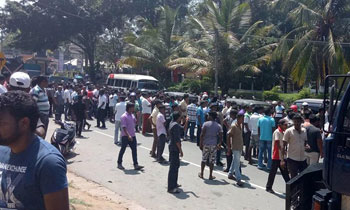 The Government strongly and unequivocally condemns the recent sporadic incident of violence that had sparked off in Ampara and Digana, creating communal disharmony, where some places of worship, residences and businesses have been damaged, the Government Information Department said in a statement this evening.
It also said;
"The Government also condemned the hate and mischievous targeting the Muslim community in particular and another as well, with the clear objective of creating among communities and inciting violence.
The Government urges every citizen of Sri Lanka to desist from falling prey to such hate and misinformation campaigns. As a country that had suffered by acts of violence for nearly three decades, we as a nation should desist from the repetition of such.
At the National Security Council Meeting held yesterday, the President has ordered the Security Forces and the police to enforce the Law and Order and to take immediate action to counter any acts of violence affecting any community, in liaison with the Government Agents/Divisional Secretaries and District Administrative Authorities. Already they are working in unity to ensure the full and impartial enforcement of the law to protest all communities against any attack that create communal/ religious disharmony.
The government will not hesitate to take firm and stern action against perpetrators of crimes and violate law and order. The Government urged for total co-operation from all citizens irrespective of any communal, religious differences to build a Nation that is stable, peaceful and the progressive where diversity is respected; and, where every individual has the opportunity to enjoy all freedom that are the rights of equal citizenship. Every Sri Lankan citizen inclusive of the clergy, politicians, social leaders, civil societies and media must deplore and violence and must co-operate to bring peace and harmony to achieve reconciliation"