---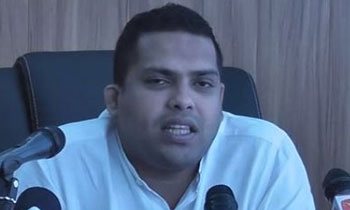 The Government has sought the advice of the Attorney General on the action it should take on the delay by the International Telecommunication Union (ITU) approving the Google Loon Project, Telecommunication Infrastructure Development Minister Harin Fernando said today.
He told a news conference that the Telecommunications Regulatory Commission (TRC) and the Cabinet approved the project. "But the delay is caused by the ITU" he said.
He said the Google Company Chief would also be keen to see the proposed project when he visited Sri Lanka next month for the 'Digital Island' Digital Summit.
When asked about the WIFI project, the minister said it was being implemented. "The issue is that we have not been able to launch a marketing drive to make people aware of the locations where they could get free WiFi. We have asked the Finance Ministry for funds for such a drive and to go ahead with a campaign when we receive the funds," the minister said.
He said fiber optic cables were being laid covering a large area. The minister assured that this would be a revolution as it would be possible to have video conferencing among households. "You will be able to engage in video conferencing with your next door neighbour soon," he said.
The minister said two-thirds of the fiber optic cable network has been completed. (Yohan Perera)
Video by Isuru