---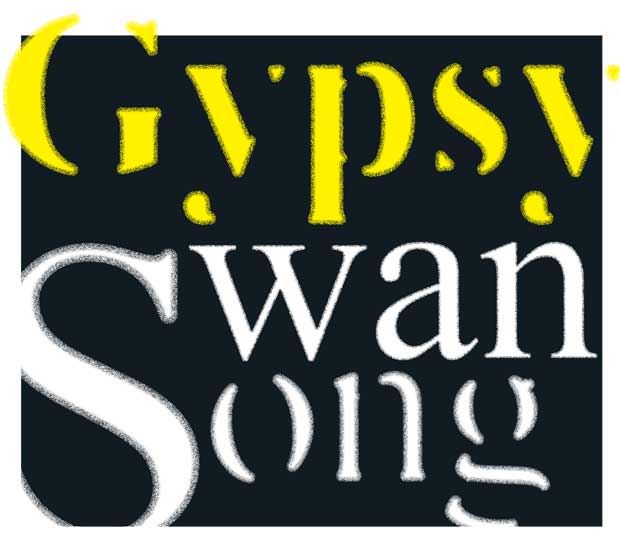 A group of Sri Lankan gypsies, members of a small and vulnerable community, has been spotted near some less crowded railway stations recently. We followed their trail in search of their origins and social hardships. The gypsies struggle hard to retain their identity without getting absorbed into the majority. They have always been a group apart even though they have adopted to the general culture of the country.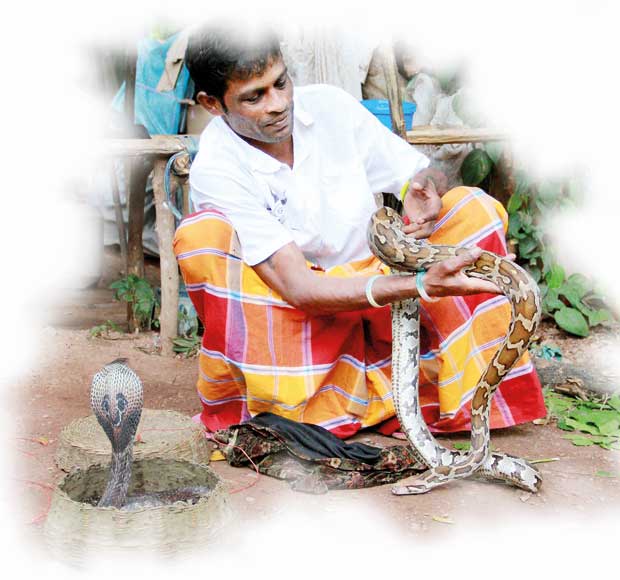 Entertaining for a living
Pix by Damith Wickramasinghe
We noticed them temporarily sheltered near Yagoda and Bulugahagoda stations. Their huts were made using Gliricidia trunks and covered with rough black polythene; they looked like black igloo huts. Cardboard and artificial mats were used as flooring while in some huts the raw earth was visible.
They had very few utensils. At the innermost corner of each hut, there was a covered area probably with their clothes and valuables. This hut is called "Na Illa" which means the house of the snake. Their name is also connected with the snake, as the Sinhalese term for them "Ahikuntika" means snake dancer. ("Ahi" - snake and "Kuntika" – dancing).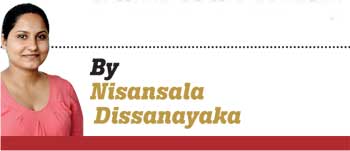 The women may be mistaken for Tamils. They wear saris, chew betel and travel to adjacent villages soothsaying and collecting clothes, provisions and money. Gypsy males wear sarong and pass for estate workers. They entertain people with monkeys and snakes for shows at markets and crowded places.
Gypsies are believed to have originated from Andhra Pradesh in ancient India; some groups may have migrated to other parts of the world and to Europe, adopting to the cultures. In Spain, Portugal, Germany and other European countries, the gypsy community has become a unique sub group with a different identity. They are famous for music and attractive dances like the flamenco. Constantly travelling in wagons, some of them are supposed to have connections with the underworld and some are deemed to be anti social. But with their lively music and dancing, gypsies have contributed and influenced Western literature, music and cinema.
"The women may be mistaken for Tamils. They wear saris, chew betel and travel to adjacent villages sooth saying and collecting clothes, provisions and money. Gypsy males wear sarong and they may pass for estate workers. They entertain people with monkeys and snakes for shows at markets and crowded places"
Meanwhile in Sri Lanka, the gypsy community has quite a different socio-cultural portfolio vis-a-vis their western counterparts. They have been profoundly adapted to the majority society apart from their itinerant routine and their traditional ways of livelihood. Their crisis is similar to what is faced by the Adivasi (Veddah) community. According to the gypsies we met, their heritage has become an extra means of living to them which they are readily marketing.
All these communities with markedly different cultures such as the Adivasis, Kaffirs and these gypsies have understood their market value and they even asked money from us for interviewing them. Wherever the gypsy community is, they have adapted to the environment, people, mode of transport and basic living conditions.
Sri Lankan gypsies are seen in the North Central, North Western, Eastern and Sabaragamuwa Provinces. Some gypsy families were settled near Kala Wewa Bank by the Mahaweli Development Project in 1976 and later, a few more families were settled close to the Rajanganaya Reservoir. Yet another group of 25 families were given Sri Lankan identity and they were settled near Kudagama in Anuradhapura with land and paddy cultivations of 2.5 acres. There are people of Sinhala nationality as well as Telugu speakers and their religion is either Buddhism or Christianity. All the families have separate houses for each and the houses are facilitated with modern technology.
A peek into their temporary huts

Hardships of a wandering life
Daasilage Raja from Kudagama, Thulana, commented about their hardships, challenges and fears. "I'm taking a monkey, snake and a python to shows and I go all around the country, especially to Colombo, to entertain foreigners.
When asked why they did not stop their regular travelling, Raja said: "It's our means of living except for the paddy we have in our villages. I have two kids for whom I want to give a better life. One of them is in ill health due to a neuron decease. I myself have to work hard to pay for my kid's treatment which I have done so far. We are travelling due to life's hardships and it's not a joy ride for us."
Speaking about the threats to their wandering life, Raja says that the gypsies that live in Puttalam who are being called "Ranna" are ruining their honour by performing immoral acts.
"Even though our origin is the same, Ranna people are quite different from us. They have professions such as sharpening knives but do a lot of stealing. Some of them are living in rented houses in Ja Ela as we heard and their little ones are used as pick pockets and for stealing. Anyway, we are the ones who get caught for their misdeeds.
Then the police arrest us and get our finger prints. If one in the whole gypsy clan performs an immoral or illegal act, the one with finger prints gets arrested. Recently I was arrested by the Ganemulla Police and they kept me till midday of the following day without any accusation. I asked them the reason behind my arrest, and they said; " We are jobless and that's why."

A meagre living
"We earn about Rs.500 to 600 on a weekday, and 2000 during weekends. Our business has fewer customers now and therefore it's immensely difficult to earn with our traditional professions. That's one of the reasons why our people turn to foreigners and travel to cities like Colombo.
" I am 41 years. My mother is Engatakka, and I have six siblings. I'm married and have twins. My daughter does O/L examination this year, she is gifted at her studies and she is a member of school Kabaddi team too. I'm spending my earnings for my kids. I was schooled only till grade 5, and at that time our parents used to be alcoholics.
Our kid's lives are much better than what we had and I am happy about that to some extent."
"There are several families with our relatives; my sister, our uncle, aunt and some other people are here with us. We rode donkeys in the past but now we have switched to trains as it is an easy way of transportation. "
"We charge according to the place we are having shows. There are times when we charge Rs:150 or 200 from poor people. From the rich, we ask for 500 or 1000 but it depends."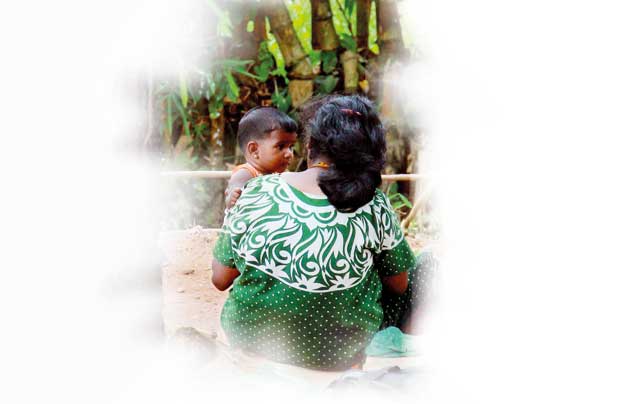 Breastfeeding mother stays in Kuppayama while others go out to earn.tif
"I'm taking a monkey, snake and a python to shows and I go all around the country, especially to Colombo, to entertain foreigners"



Prof. Tennyson Perera

- Department of Sociology University of Sri Jayawardenepura
"They are traditional people who don't legally own land. They are going from place to place looking for food and their migration is from rural to urban. Travelling is an age old habit; even in the colonial era gypsies existed. Their traditional ways of life are sooth saying, snake shows and a little begging. In the villages they do some agriculture. I have seen a group of them in Kesbewa near a tank. Even though the folklore says they cannot stay more than seven days in a place, I noticed them there for three months, living in temporary huts."
The gypsies are known by many different names around the world. These are just a few.
Germany - Zigeuner
France – Gitan, tzigane
Russia, Bulgaria and Romania - Tishigan
America – Gypsy, Romani, Roma
Britain - Gypsies
Spain - Gitano
Sweden - Tatara
Snake shows are characteristic of the gypsies and the snake is a symbol of their community. The connection between snakes and the "Ahikuntika" peoples is that sometimes it assumes a spirituality and forms of worship.

Economy
Ahikuntika people have been traditionally known to earn day-to- day existence and had no practice of saving for the future. But their economy has changed as they have now largely adopted to the socio-economic culture of other communities. From what they said, it became evident that they were saving money for their needs by now.



Young generation
The younger generation of gypsies tend to work their traditional professions in secret or go looking for manual labour jobs in urban areas. Some can be found doing jobs related to tourism in Mount Lavinia, Dehiwala, Galle, Matara and Hikkaduwa areas. They give up education at a very young age in a bid to earn money. Even some of the Sinhalese people in these areas are extremely poor. Even the younger ones are characteristically very patient and this quality has enabled them to be good sportsmen. Gypsy parents keep their children at home while travelling to work, but they go away together for tours in the school holiday season. Most of them don't have voting rights.


Chandra Sri Ranasinghe - Translator of "Lowa Pathira Wasana Ahikuntikayo"
"Getting the gypsies to settle down has been unsuccessful because they still retain their tribal qualities. In the past they had their annual meeting in Nachchaduwa Wewa, where all of them gathered to solve problems and fix marriages. Now it has become a monthly meeting, as it seems. Their former lifestyle was quite entertaining because in the evening they would gather, enjoy meals together and sing leaving the entire village entertained. It was a time when there were just a few means of entertainment available for villagers. Even though they have been settled down properly, they are still travelling because it is in their genes. Gypsy women go for foreign employment now."

OIC - Ganemulla Police Station
When we contacted the OIC, his answer was: " Many people are arrested and without checking the documents we cant say anything."
But according to a reliable source: " Gypsies are arrested due to the complaints against them. Gypsies travel at night and the arrests take place due to suspicion. Anyway the villagers dislike gypsy groups and there are several complaints coming."



Problems and present
Even though Gypsy people have an endemic culture, they have adapted to the majority community and its culture to a point where little of their own unique culture remains. Now their population is bigger and they find it difficult to travel due to scarcity of barren lands to settle in. This unique community has undergone urbanization and modernization at a rapid pace.
Sources - "Samajeeya Vidya Lipi" by Nadeera Jayathunga