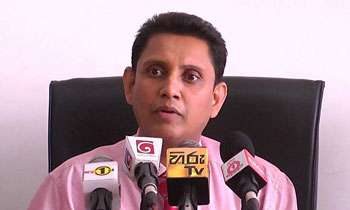 The Government Medical Officers' Association (GMOA) today said they would launch a countrywide work stoppage next week, if the authorities concerned do not provide them with reasonable solutions to issues faced by them, during coming days.
GMOA Secretary Dr. Haritha Aluthge told a news conference that their central committee, that met today, had vested its executive committee with the powers to decide on a date to launch the work stoppage after considering the response of President Maithripala Sirisena and Health Minister Rajitha Senaratne to their demands.
He said the GMOA had nearly ten demands that needed to be resolved which include issues related to the delay in increasing the disturbance, availability and transport (DAT) allowance paid to medical officers.
"Our other demands are; the government should issue a gazette notification on minimum standards of medical education already approved by the Sri Lanka Medical Council (SLMC) and actions should be taken to solve the issues with regard to the Free Trade Agreement (FTA) with Sri Lanka and Singapore," he said.
"Amendments should be made to the Inland Revenue (IR) Act, which is detrimental to professionals. There are many issues that remain unresolved particularly with regard to the schooling of doctors' children and the Education Ministry headed by Minister Akila Viraj Kariyawasam," he added.
He said the GMOA had informed the authorities concerned, including President Sirisena, about these issues on several occasions and added that they would wait for another two to three days for a positive response from the authorities with regards to their demands before deciding on their next course of action. (Kalathma Jayawardhane)