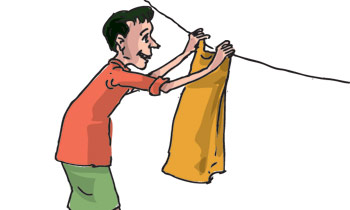 Two shopkeepers in a certain town had shops opposite each other on the main road of the town.
They could see each other while conducting their business. One of them was residing with his family in a house adjoining his shop, while the other's family was living elsewhere.
The first shopkeeper's family included a young woman bathed in the evening and hung out her clothes on a line in the garden.
The other shopkeeper had observed this, and at dusk he had surreptitiously crossed the road and stolen the women's panties. He had done this on more than one occasion.
The woman had complained to her family that her clothes were getting stolen. Her brother had then fixed a CCTV camera to catch the thief. The next day too her clothes had been taken; the CCTV footage was examined and the family was shocked to discover that the other shopkeeper was the thief.
An early morning call to the man had awakened him from his sleep and, in order to avoid the resulting scandal, he had left the area, leaving his business unattended. (Senaka Bandara and K M P Bandara)