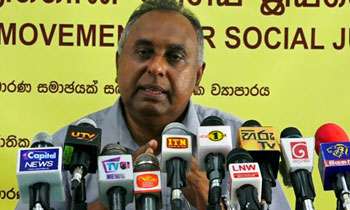 The convener of the Movement for a Just Society, Prof Sarath Wijesuriya said he would urge the government to remove the Rs.5,000 notes from circulation as a remedy to the present Economic Crisis faced by Sri Lanka.
He said this at a Media Briefing held at the head office of the Movement for a Just Society in Rajagiriya and instead of cutting down on imports,it was better to stop functions being held to boost the image of politicians by spending colossal sums of money.
Prof. Wijesuriya said the late Dr N.M. Perera as the then Minister of Finance introduced the demonetization of the Rs.100 and Rs.50 notes in the face of a severe Economic Crisis, which compelled those who had hidden black money in gunny bags and trunks to be brought out. He said we could do the same and by withdrawing the Rs.5000 notes from circulationto ease the crisis.
There is information that earnings from various forms of informal activities are been stacked and kept in gunnies in several places. Even in some Temples and with Politicians there is evidence that Rs 5000 notes are safely stacked in bundles and there is proof that these hidden notes could fill in a Container, he said further. (Muditha Dayananda)