---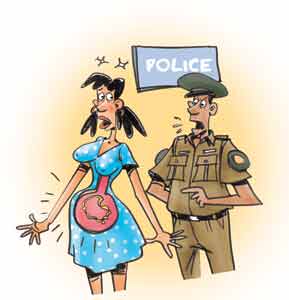 While attempting to lodge a complaint on lost Gold Chains, police uncovers details of an illicit love affair.
This story is revealed from the Dambulla Police sources.
The police had been informed on its emergency line of the robbery of two Gold Chains by a woman saying that three persons snatched the Gold Chains she was wearing and escaped.
The HQI of the Dambulla Police Sampath Wickramarathne who lost no time on this matter had instantly deployed three expert police officers to nab the thieves.
They had first met the woman who complained about the robbery and they visited the place where the incident had taken place and also noted the time of the incident. Police had doubts about the woman when she said the robbery took place at about 11.30 in the night, but she had informed police only the following day around 5.00 am. In her statement she had stated that she could identify the three suspects.
The police acting on this information had arrested three persons on suspicion from a house while they were sleeping. Police had also found the gold chain of the woman. When the suspects were interrogated at the police station they accepted that they snatched the two gold chains from the woman.
They also stated to the police that three of them had attended an election meeting and had consumed liquor and when they were returning home around 11.30 pm, they had noticed near a shrub and taking cover behind a three wheeler, saw this woman was engaged in sexual act with someone.
After finding out who they were they had assaulted the man and the woman. The woman afterwards had begged the three individuals not to tell this incident and embraced them. In the rush one gold chain the woman was wearing broke and fell. They had got hold of the chain while the other was pulled out by the woman herself and swallowed it.
The police who questioned the woman had accepted the facts as stated by the tree suspects. They were taken into custody. The police admonished the woman.
Police sources revealed that the woman had left her home after her husband and the children had been sleeping, saying that she is visiting her sick mother. While she was in the company of her paramour the three youths had confronted the duo. (K K Ariyadasa)