---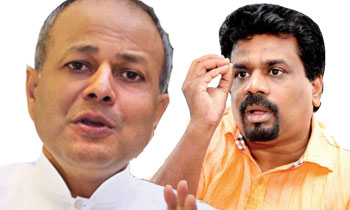 Responding to a question asked in Parliament by Chief Opposition Whip Anura Kumara Dissanayake, Law and Order Minister Sagala Ratnayake said today he was unable to agree with the IGP's statement that the police had failed to stop the violence that erupted at Gintota recently.
"I don't know whether the IGP made such a statement, but if he did we cannot agree with it. The police and the security forces acted with responsibility to bring the situation in Gintota under control," the minister said.
He said as a long-term measure, an inter-religious committee would be set up in the area to maintain peace and harmony among all the ethnic and religious groups in Gintota.
Meanwhile, Mr. Dissanayake condemned the government's move to downsize the presence of security personnel in the area, at a time when it had been disclosed that a certain political group was attempting to create trouble by spreading hatred among ethnic and religious groups.
The minister said the security measures were eased because the ground situation in Gintota had improved. He said statements had been recorded from more than 134 people on the recent violence in Gintota and that arrangements had been made to provide relief to those who were affected by the clashes. (Yohan Perera and Ajith Siriwardana)