---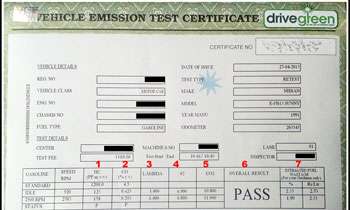 The carrying of Vehicle Emission Test (VET-eco test) certificate had been made compulsory due to complaints about the existence of fake certificates, the Police said today.
Speaking to the Daily Mirror Director of Traffic Administration and Road Safety SP Indika Hapugoda said several rackets had been operating to create forged VET Certificates.
Accordingly, the failure to carry VET Certificate would lead to a spot fine of Rs. 500 following the Extraordinary Gazette Notification that was issued on January 15.
The number of traffic offences that deserve fines had been increased from July 15, which includes the failure of carrying the emission certificate.
Under the important information section of the VET certificate, it clearly mentioned the availability as 'VET Certificate has to be carried with the vehicle' printed on the back of the certificate.
"There is nothing a Police officer could do but implement the law," SP Hapugoda said.
The Gazette Notice says:
The Emission Certificate and Certificate of Fitness issued in respect of a motor vehicle under this section shall be
(a) carried in that vehicle at all times; (b) made available for inspection on demand by a police officer, Grama Niladhari or Examiner or authorized officer appointed under this Act, or by any person authorized in writing by the Commissioner - General :
"Provided, however, that such certificate shall be produced when required, before a Court, the Commissioner - General or a Licensing Authority," it said. (Chaturanga Samarawickrama)