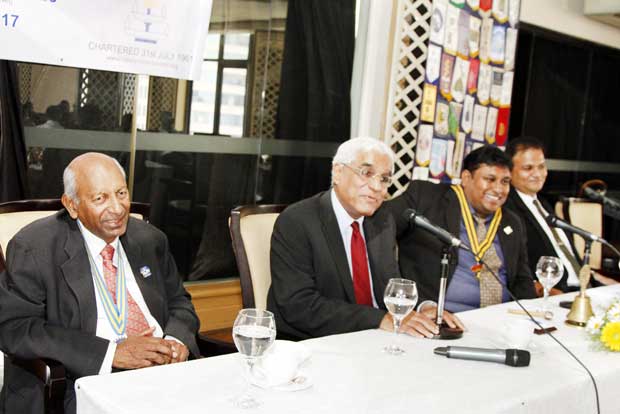 The Rotary Club of Colombo West (RI District 3220 Sri Lanka & Maldives) held the Rotary Club weekly members' luncheon meeting at the Galadari Hotel recently.
Several fellow Rotary members participated at the meeting chaired by Rotary Club President Roshan Perera. The head table also comprised of Senake Amarasinghe – Governor District 3220 and Harsha Rajan – Secretary Rotary Club of Colombo West.
It was the fifth meeting for the year 2017. The agenda was focused on building cordial relations and goodwill among Rotarians comprising of business and professional leaders with a view in providing humanitarian services to the community at large.
Roshan Perera in his welcome address invited Dr. Indrajit Coomaraswamy – Governor of the Central Bank of Sri Lanka to speak to the gathering on the current economic status of the country and for an exchange of views.
After a general presentation of the recent Club's activities, the meeting was then devoted to a presentation by Dr. Coomaraswamy.
Dr. Coomaraswamy in his speech, outlined the Government's policies which he stressed should be pro-active and not merely for short term political expedience. He drew the attention of the audience to continuing worrying situation of the twin deficits; the budget deficit and deficit on trade. He reiterated that economic reforms are necessary, but should be consistent and steered with commitment and a clear goal of the envisioned outcome. He also spelt out proposed plans for economic recovery through the twin pillars for economic transformation, namely Foreign Direct Investments (FDIs) and Exports.
The speech was followed by a Q & A session enabling members to air their concerns and clarify doubts regarding the proposed roadmap for economic progress.
Rotary member Lalith Kahatapitiya in his vote of thanks on behalf of all the members, expressed satisfaction on the fruitful exchange of information and views during the meeting, and agreed that this type of discussion was useful and praised the Governor for his frank and genuine views and appraisal of the current economic status of the country.