---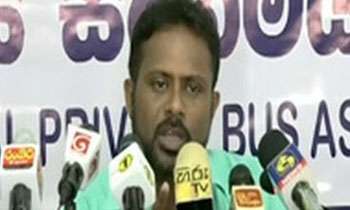 The All Ceylon Private Bus Association (ACPBA) said that it would go for a bus fare increase if the Government failed to look at their demands favourably.
Speaking to the media at a press briefing in Gampaha today ACPBA Secretary Anjana Priyanjith said that buses incurred losses due to the recent fuel price increase.
"Short distance buses incur a loss of Rs.750 daily and Rs. 22,500 monthly, while long-distance buses incur a loss of Rs.40,000 monthly," he said.
"The Government should provide a loan at a concessionary rate of two per cent when buying new buses and should omit the tax imposed on tyres, tubes and spare parts," he said.
He said that if the Government failed to fulfil their request, they would go for a bus fare hike unilaterally, going against the annual bus fare revision. (Chaturanga Samarawickrama)