---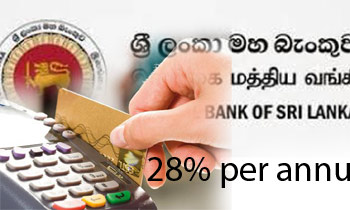 Sri Lanka's banks have jumped to raise the interest rates on their credit card and several other loan products as the Central Bank last month gave them the green light to price their loans to reflect market interest rates.
Some banks have raised their interest rates as much as by 4.0 percent on products such as credit cards, which were hitherto capped at 24 percent, effectively raising the interest rate to 28 percent per annum.
The Central Bank last month lifted the interest rate caps hitherto placed on credit products such as redit cards, housing loans and a few others, allowing the banks to set their own interest rate caps to reflect the rising market interest rates.
Several banks have already communicated the change in interest to their customers. Certain fees levied on customers by the banks have also seen a staggering rise. The new rates will come into effect from July 1, 2017 onwards.
Some banks have also decided to raise the interest rates charged on temporary overdraft facilities, which were earlier capped at 24 percent.
Early this week, Fitch Ratings predicted higher interest rate pressure to hurt corporate performance during the next 12 months as most of the borrowings are short-term in nature and are on floating rates.
Meanwhile, higher penal rates are also on the cards as previous restrictions on such rates have too been removed.
The caps on penal interest rates were brought in 2013 in a bid to go soft on defaulters when the economy's credit growth failed to pick up amid multiple attempts as the then authorities were of the belief that such a policy would stimulate demand for credit.
Although the Central Bank also has lifted the 16 percent cap on housing loans, the banks are yet to raise the housing loan rates.
Sri Lanka's housing loans have been on the rise and account for the highest share under the industry's construction sectorrelated loans. Higher rates could put pressure on the asset quality of the banks as the fixed income earners would struggle to service their housing loans.
Due to higher interest rates, taxes and inflation adversely affecting the disposable incomes of the people, Sri Lanka's banks may see an upsurge in sour loans impacting their bottom lines. The growth has slowed down due to challenging operating conditions, which could also have a negative impact on internal capital generation as the ability to make higher profits is now limited.
In recent times, the banks have seen their margins thinning as the cost of funds has escalated because the banks have been fighting for a share of the deposits offering higher rates in an extremely competitive market place.