---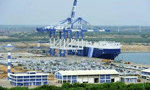 A Framework Agreement was signed with China Merchants Port Holdings Company Limited yesterday for what the government called 'revitalization' of the Hambantota Port on a Private –Public Partnership (PPP) model.
The Ministry of Development Strategies and International Trade said in a statement that the agreement was executed in accordance with the Cabinet decision in this regard. It outlines the understanding between the Government of Sri Lanka and Chinese State-owned Corporate - China Merchants Port Holdings Company Limited.
"A Concession Agreement is to be executed, upon completion of a due diligence to be performed by the China Merchants Port Holdings Company Limited,' the statement said.
The government is to convert a percentage of the loans obtained from China to build the port equity under this programme.
President Maithripala Sirisena, on his second anniversary in office, will declare open the Ruhunu Development Area Project in January. The port development is also part of this project. At present action is being taken to obtain 15,000 acres of land for the proposed investment zones.