---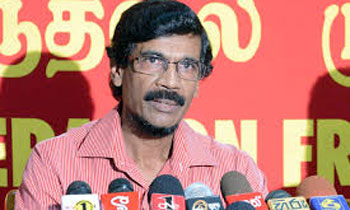 The Janatha Vimukthi Peramuna (JVP) said today President Maithripala Sirisena was trying to gain publicity instead of ruling the country by criticising the decisions taken by some of the ministries at public meetings instead of in the Cabinet.
JVP General Secretary Tilvin Silva said the President had told a public meeting in Agalawatte that he was informed about the two Gazette notifications on permitting the sale of liquor to women and liquor shop opening times via the media and that he instructed the Prime Minister and the Finance Minister to cancel them.
He said the President should be aware of the decisions taken at ministry level and added that he should have resolved such issues in the Cabinet and not criticising them at public meetings.
"The President not behaving in the manner a President should. We wonder whether this is a ruse to gain publicity instead of ruling the country," Mr. Silva said.
He told a news conference that President Sirisena had not been able to fulfil the promises made to the people during the past three years and added that he was only trying to safeguard the SLFP rather than working on fulfilling the mandate given to him.
Mr. Silva said the President came to power promising to abolish the executive presidency but now he was asking the Supreme Court if his term was five or six years.
"The President is not working according to the mandate he was given but attempting to secure power in the SLFP and protect the party. He must be having some ulterior motives in asking about his term during election time. He should have done this when the 20th Amendment was introduced or at the completion of his five-year term," he said. (Ajith Siriwardana)
Video by Susantha