---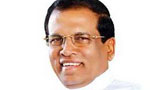 President Maithripala Sirisena informed the leaders of his United People's Freedom Alliance (UPFA) yesterday that the local government elections would be conducted early next year.
UPFA secretary, Fisheries Minister Mahinda Amaraweera, told Daily Mirror that the leaders of the constituent parties of the UPFA had met and discussed the current economic situation and matters pertaining to the local government elections.
He said the UPFA had decided to hold the elections early next year. The participants had also discussed the present state of the economy.
Meanwhile, the chairman of the committee appointed to rectify delimitation issues, Ashoka Peiris, said he was ready with the final report which is to be handed over on December 27.
"We have already finished the report. It will be handed over to the subject minister," he said.
After that, the electoral wards, created in accordance with recommendations of this committee, have to be gazetted. The total number of members to be elected should also be announced by a gazette notification. (Kelum Bandara)