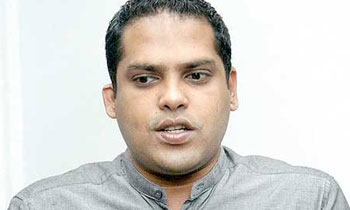 Minister of Telecommunication and Digital Infrastructure Harin Fernando said though some people accused him of disregarding his voters, he was not allowed to work despite trying hard for it.
The Minister was speaking at an occasion held on Sunday (19) in Badulla to mark the International Women's Day.
"These days, some people accuse me of disregarding those who voted. They say I am not to be seen after getting their votes. I tried my best to work for them, yet, I am not allowed to do so. I will remain patient for a couple of months and see and will either resign from this or work for you", he said.
Women members of the Ceylon Workers Congress arrived at the Baddula Post Office Complex auditorium from Muthiyangana Rajamaha Viharaya carrying slogans demanding a salary increase. He said he and Suresh had no portfolio to deliver something for the benefit of the estate sector.
"We have nothing against Minister Palani Digambaram. Yet, if we are assigned trade union activities in the plantation sector, a Cabinet portfolio is needed to work for it. Currently, we have different responsibilities. You have to bear in mind that it is the trade unions affiliated to the UNP that worked for plantation workers' rights", Minister Fernando added.(Palitha Aryawansa and Prasad Rukmal)