---

Saudi Shari ah court has sentenced one of our women there to death by stoning. Her offence was indulging in a sexual liaison out of wedlock with a fellow Sri Lankan. (The man has also been sentenced to 100 lashes)
In generally, sex is a personal matter of adult individuals, in which the State has no say. However, the Saudis have a penchant for capital punishment for many otherwise mundane affairs, including renouncing Islam and blogging dissent etc. Last week, Riyadh carried out the beheading of 50 inmates convicted by their courts on various offences -- not to be outdone by their ideological bedfellows, the slave- taking and blood-soaking terrorists of the Islamic State.
Last week, Opposition MP M.A. Sumanthiran was shouted down in Parliament by some Muslim MPs when he questioned legal groundings on stoning to death under the Shari ah law. That Mr. Sumanthiran had the courage to speak up what the vast majority of Sri Lankans ponder in silently is in stark contrast to the silence maintained by the otherwise rubble-rousing Rajapaksa coterie in Parliament. Vocal protests inside the House to Sumanthiran's remarks could well be disturbing signs of not so covert sympathies with a medieval ideology.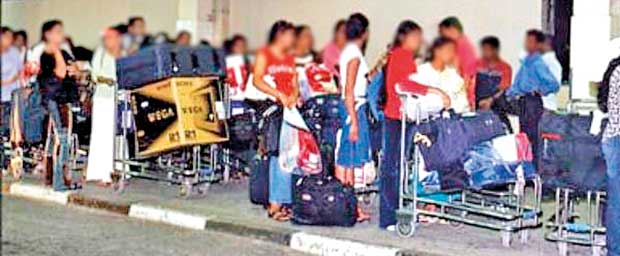 One could also see undertones of such blind (and equally myopic) loyalties in airwaves, newspaper columns and occasional street protests of Israeli bashing – though the irony is that the Jewish State is the only country in the Middle East, which extends equal treatment to its migrant workers; including thousands of Sri Lankans who work there. Those stark differences would continue to remind us about the limits of civilization in some parts of the world.
Local civil society activists have held protests and signed petitions demanding a reprieve for the condemned woman. However, the Saudis do not have a tradition of democratic dissent (last month, a dissident artist was sentenced to death over renouncing Islam) and are unlikely to swayed by such campaigns.
In this context, one would have expected the government to seek the good offices of the United States -- of which Ambassador to the UN, Samantha Power was here recently to request a pardon from Saudi rulers. Given Riyadh's strategic relationship with Washington, that would be a better strategy than holding street protests in front of the Saudi embassy.



The government says the sentence was likely to be reconsidered once an appeal was made to the Saudi courts. We can only pray for our women. In the meantime, we should ponder seriously as to why we, as a nation, end up in this humiliating position, leaving the most vulnerable members of our community toiling in most insalubrious places at the mercy of medieval laws.
Sri Lanka shouldn't have been in this position. We are a welfare State which provides free health care, free education and a load of other social benefits.


But, there is a pitiful mismatch between the grand expectations of our welfare State and its outcome. This does not mean to undermine some of the salient achievements of our welfare State, which are evident in social indicators. However, if a country which has a long-established tradition of welfare leaves its most vulnerable women with toiling in the Middle Eastern houses in slave-like conditions as the last resort to make their ends meet; that system has a serious problem. For instance as of 2012, 1.8 million Sri Lankans work abroad, of whom, 94% in the Middle East and 42% of them are housemaids and an additional 22% are of other categories of unskilled workers.


" Sri Lanka can create productive employment opportunities for its young people or send them abroad to work in more dignified careers"



In 2012, they contributed to the tune of US $ 6.4 billion in foreign remittances.
When an already cash-strapped government splashed all that it has on subsidies, it left no room for investment in infrastructure.
That is why we could not build a single railway or a highway for the next sixty years since the British left our shores.
Under-investment in infrastructure dissuaded potential investors. Nevertheless, it was not a problem in the eyes of the political leadership at the time, who like their counterparts in many other newly independent countries, tended to believe capitalism and free entrepreneurship as a new facet of imperialism. And infatuated by Stalin's murderous experiment of the Soviet industrialization in the 1930's, they all wanted to build heavy industries -- when more sensible leaders of South East Asia started from scratch, with garments and low-end manufacturing, gradually climbing up the technological ladder to build world class electronics and ships.
Our heavy industries proved to be white elephants, where as garment factories, J.R. Jayawardene opened after economic liberalization continue to employ half-a- million of young men and women.



Why we have condemned our people to toil in the Middle East, in unskilled and semi-skilled work is that we have failed to create a sufficient number of manufacturing jobs which are required to employ hundreds of thousands of unskilled and semi-skilled youth who annually join the workforce.
Then, why does our workforce have a sizeable segment of unskilled workers? The problem lies with the education system, which continues to churn out a swathe of unskilled young men and women. Is it simply a manifestation of unequal distribution of education resources and facilities in the country? That is more likely to be only part of the problem. There is a greater systemic problem in the system which teaches syllabuses which have little practical value and deprives students with much needed soft skills. The root of this problem lies at the heart of the compulsory Swabasha (vernacular) education policy.
Our poor housemaids could well have found more lucrative jobs as caregivers and call centre assistants if our education system kept up with the changing world (and preferably, retained English as the medium of instruction).
Even now, the employment prospects of many thousands can be improved by imparting new skills. The government can invite the private sector to play a greater role in those areas and provide those who are willing to undergo training with financial assistance and vouchers. Until (and unless) Sri Lanka fix its problems in education, our humiliation would endure.



The government has allocated 6 per cent of GDP for education; a veracity of the figure is contested by the Opposition. However, the problem is not just the fund, it is the absence of a vision; partly due to the fact that policy elites themselves were a product of insular education that pervaded this country for too long.That is why the government (and education ministry) should invite the insights from the leaders of the private sector and their active participation in formulating our education policies and even where it is applicable syllabuses. Thousands of young women continue to head for the Middle East to work as domestic helpers; that is proof that this is not just a problem of the past. The low skill attainment is a persistent problem of our education system. With right skills in its workforce and new physical infrastructure, some of which have already been built by former President Rajapaksa, Sri Lanka can create productive employment opportunities for its young people or send them abroad to work in more dignified careers. To do that we should turn around our welfare State from one that perpetuates dependency to one that is an enabler.

Follow Ranga Jayasuriya @ Ranga Jayasuriya on twitter
---
Add comment

Comments will be edited (grammar, spelling and slang) and authorized at the discretion of Daily Mirror online. The website also has the right not to publish selected comments.

---