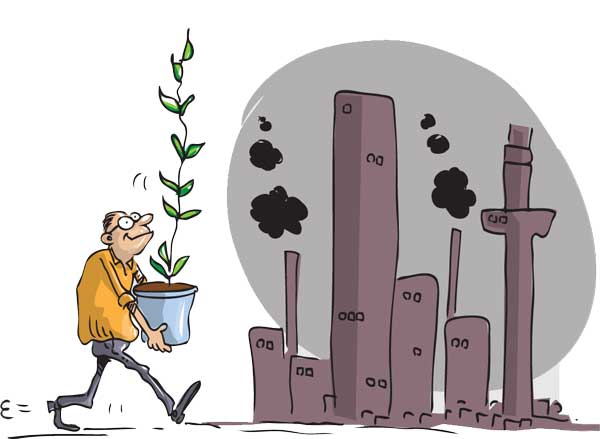 he National Government has repeatedly pledged it is building a new Sri Lanka based on consensus and consultation, inter-religious, inter-racial and inter-cultural unity in diversity so that there will be sustainable eco-friendly development. When Singapore's founder-Premier Lee Kwan Yew visited Sri Lanka, he said he would like to build Singapore based on a Sri Lankan model. The roles have now been reversed and we need to rebuild Sri Lanka on a Singapore model. One of the vital areas is to go green, in terms of eco-friendly development.
Most importantly, Singapore started at the beginning, the best place to start. The schools. For environmental and education purposes almost every school has gone green with recycling bins, facilities for rainwater harvesting and some classrooms even in the open air using sunlight and the wind to save fuel energy. We are glad the national government in the Budget for next year has increased fourtold the allocation for education.
We hope a large part of the extra money will be used to build or rebuild green schools so that the children will learn to be eco-friendly not just from text books to pass examinations but in practical terms. Hopefully, when they grow up and take their place in society they will be able to teach the parents, leaders and elders on how to be eco-friendly on a small or big scale.
According to the Singapore-based Channel NewsAsia, with the haze crisis persisting in the region, most companies and other institutions like schools are going green in a deeper way. For instance, Singapore Printing Company, the Asiawide Print Holdings' business model is built on sustainability. Everything in its printing process is eco-friendly -- from the soy-based ink it uses, to the printing plates for mass production. Eco-friendly material costs about 10 to 30 per cent more but the company said there was greater interest in environment-friendly material.
The Singapore Environment Council (SEC) said that on average, it would cost a company about S$5,000 for a product line to get it green-certified. The more complex the test requirement, the higher the fee.Singapore has its own green labelling certification, called the Singapore Green Label, and about 3,000 products have been given this stamp of approval. They cover a range of products, from building materials and fittings to cosmetics, appliances and office equipment.
In the wake of air pollution caused by haze, some products which carry the label were taken off the shelves. The products are related to Asia Pulp and Paper Group, which is one of the companies being investigated for causing the forest fires in Indonesia, according to Channel NewsAsia.
SEC is engaging companies to make the switch. It is also lobbying consumers to choose eco-friendly products."We will continue to work both with businesses and consumers to drive the demand base. So obviously, if you increase the demand for green products, it will definitely help to bring the cost to almost the same as products which are not sustainably produced," said Edwin Seah, executive director of SEC.
In June this year a Green Carinval was organised by the Building and Construction Authority (BCA) and the Singapore Green Building Council. Several organisations and schools pledged to do more for the environment and raise awareness on green buildings and green living.
They committed to doing so under the BCA Green Mark Portfolio programme - which encourages the adoption of energy-efficient design, technologies and a good environment management. A scheme to promote energy efficiency in hotels has also been launched to give recognition to energy-efficient hotels and promote energy efficiency by the better use of resources. Over the past eight years most big hotel chains have come on board and obtained the energy-smart hotel label to promote green tourism. So have most work places.
We hope that in the coming weeks and months, Sri Lanka will also take practical steps to go green so that our country will be seen not only as the pearl but also as the green island of the Indian Ocean.
---
Add comment

Comments will be edited (grammar, spelling and slang) and authorized at the discretion of Daily Mirror online. The website also has the right not to publish selected comments.

---