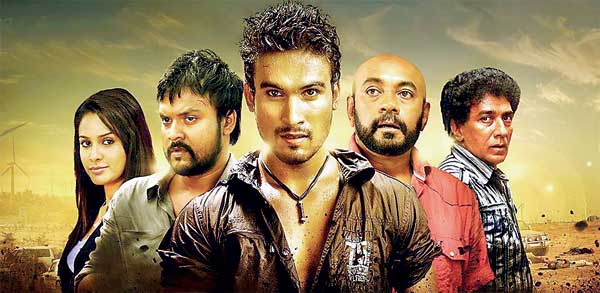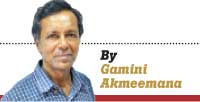 Some people never learn. Or they never grow up. I have been waiting to discover the classic Sinhala thriller since my school days. By now, with my hair turning grey, I should know better. But there I was, rushing into the Ritz cinema with ticket in hand to see Pravegaya, hoping against hope that this would finally be the classic I've been awaiting all these years.

I'm late by a few minutes. But, as I find myself a centre seat to get a good view of the wide screen, I can see that I haven't missed any 'Rosebud' scene, central to the plot. Instead, there's an indoor dance sequence, with enough pelvic thrusting to sizzle my ageing brain. Spare me: I have seen enough screen dancing inside this cinema in the old days, but it was on a screen half this size and mostly in black and white. I take refuge in an unoccupied corner, from where my beat up nervous system breathes a sigh of relief.

Before dismissing me as an anachronism who can't keep up with fast changing times, give me a chance to explain. Is it any co-incidence that all the classic thrillers I have seen were made elsewhere? From the Maltese Falcon to the French Connection, The Godfather, Scarface, Gangs of New York to Nayagam and Enter the Dragon, they are foreign.

To be fair, we have turned out a number of good films which can fit into the film noir, or thriller, slot. D. B. Nihalsinha's Welikathara and Abiraharasa by Lenin Moraes come to mind. Welikathara was more high brow, about the inner conflict of a tough policeman with a troubled past dealing with a smuggler.

Abirahasa was about an unscrupulous stepmother literally trying to scare her stepdaughter to death and inherit her fortune. Lenin Moraes' cinematography, lighting and editing is worth a study.

Titus Thotawatta's films 'Kawda Hari' and Haralakse, based on the Turf Club robbery, too, have film noir qualities, especially the latter.

Chandran Ratnam's colour film Kavuluwa too, was a praiseworthy film noir attempt, while Amaranath Jayathilake's Dadayama, based on the murder of Adelene Witharana, too, is worthy of mention.

I have enjoyed them in varying degrees. If any of the above comes close to being a classic, it's Welikathara. But all of them were made twenty or more years ago, and none of them dealt with big scale criminal mafias, Scarface style. It's our contemporary film makers who are trying to make films about them, and failing miserably.

In the good old days, criminal syndicates such as the Corleone family in the Godfather series ran gambling, extortion, prostitution and protection rackets. This sounds respectable compared to the drug cartels of today. Martin Scorcese's Scarface was about a drug dealer, and Steven Soderberg's Traffic was about drug cartels and police corruption. Our film makers, like some of our politicians but in a more transparent manner, try to make money out of heroin dealers, but none have succeeded in making a well-researched, convincing film so far.

Malicious rumour has it that Pravegaya is a copy of Tamil film, which is probably why the hero is shown tortured by anti-Narcotics sleuths. The Indians don't believe their police to be holy. Actually, the film has the cream of our acting talent, including Jayalath Manoratne, Mahendra Perera, Jackson Anthony and Ranjan Ramanayake. The female roles – Udari Perera, Damitha Abeyratne and Maureen Charuni are essentially passive. Damitha as the mafia's don's combative wife shows more gumption. The moral may be that our women can discover their inner strengths only if they associate with crime.

Hemal Ranasinghe as the young hero is a fine actor. He has the potential to be Wijeya Kumaratunga's successor, and it will be a tragedy if all he manages for the rest of his career is to show off his muscles and do leaps and somersaults across the wide screen.
In the old days, cranes and dolleys were rarely used in our films. In Pravegaya, there is one long sequence when the hero is shown running along a narrow lane at night. Either this is one long sequence shot using a crane, or it has been put together using deft cuts in the dark places. But this technical dexterity is completely wasted because the film is mere formula without any artistry.

The story line, about a young sales rep whose motorcycle is stolen by a revenge-seeking younger brother of a mafia don, holds promise. But this promise isn't kept as the plot meanders from one fight and one outrage to another. Drug dealers are everyone's ogre, the invincible grease yakka. Without proper research, though, these are cardboard devils.

They look convincing enough. In Indian cinema, criminal bosses have been known to finance commercial films. Some criminals have even acted in them. This was beginning to happen in Sri Lanka over the past decade, with drug trafficker Wele Suda reportedly financing a film project. It was a matter of time before his influential political friends too, became producers and even actors (Hi there, handsome). The process has been temporarily checked but you never know.

This Indian ultra-realism spills over to Pravegaya. But the outrages are all too predictable. In real life, there are no sweet-talking heroes taking on drug cartels, and that's why we have cinema. Fair enough. But, when the hero takes a full blow on the head with an iron bar and goes on to knock his attackers senseless, this is a throw back to the 50s-60s invinsible super hero (Gamini Fonseka, Charles Bronson et al). In other words, our cinema is stuck in a very old, overplayed groove.

The mafia boss (played by Jackson Anthony) has a heart of gold and a sense of justice. It's his younger brother who's evil. Eventually, it's the boss' faithful and just acolyte who inherits the business, raising hopes that the exorbitantly pricy drug will now be available at more reasonable prices.

The hero at the film's start is a hard-drinking prodigal son who comes home and gets whacked by his irate father (Jayalath Manoratne). That fathers can still reform their twenty something offspring in this manner seems to be a leaf out of Mahinda Chinthanaya. Once again, we are stuck in a groove.
All drug traffickers are undoubtedly evil. What about film makers who throw films like Pravegaya at us? Somebody please make that classic Sinhala thriller while I'm still here.
---
Add comment

Comments will be edited (grammar, spelling and slang) and authorized at the discretion of Daily Mirror online. The website also has the right not to publish selected comments.

---