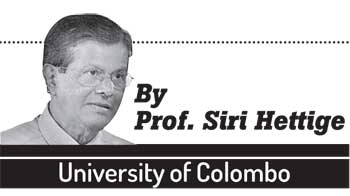 ver increasing complexity of our wider environment challenges empirically minded natural and social scientists to comprehend what is happening around us.
The recent advances in climate science show that human activities have already altered global climate, and if no steps were taken to reverse the present trend, the consequences could only be catastrophic.

There are of course other areas of human thought and action that are of lesser significance in comparison to climate change.
These include rising religious fundamentalism as a political ideology and the spread of neo-liberalism as an economic doctrine. The empirical analysis of these developments in terms of their causes and effects has not been straightforward.

While the findings of social scientific research on these issues point to the kind of policy interventions that are required to address the issues concerned, actual policies pursued by governments around the world have been influenced by a whole range of factors that do not always include knowledge generated by social science research.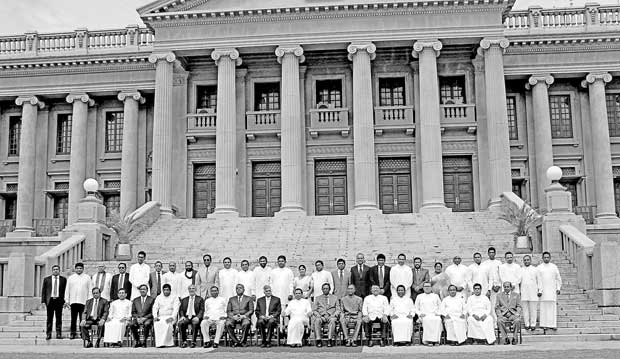 This of course is a general problem faced by scientists, who strive to influence public policy.

The situation that has prevailed in Sri Lanka for decades in this regard shows how difficult it is to convince the political leaders to accept knowledge as a basis of policy making.

But, we as social scientists know that they are primarily guided by political imperatives and occasionally by scientific facts. Political power for them is like water to fish-without power they die a natural death like fish without water! So, they would do everything that could help them consolidate their power.

It is in this light that we have to understand the formation of yet another jumbo Cabinet, despite all the public criticism of the top heavy nature of the past regimes in the country.

The justification given for appointing so many Cabinet ministers is so flimsy that even a primary school child would not accept it. The motley collection of individuals that have joined the so-called national government can move in any number of directions in the near future, swiftly undermining any sense of national purpose.

The leaders of the present regime have paid lip service to the need for rationalizing government, in order to accelerate development and bring about national unity.


"The resulting duplication of function, lack of coordination among related institutions and unnecessary wastage of public funds have not been of much concern to political leaders. So, the argument for a smaller and well constituted Cabinet of Ministers is a reasonable one that can be easily acceptable to people who are accustomed to rational thinking."


A large group of academics, intellectuals and civil society leaders came together in the run up to the general elections to persuade political leaders to move beyond political rhetoric and adopt evidence based policy making as a way of responding to various challenges facing the country.
However, what has happened after the elections, in particular the appointment of the Cabinet of Ministers does not seem to indicate that we have had any significant influence on their decisions, which appear to be guided almost entirely by political considerations.
It is perhaps unreasonable to expect political leaders to be guided by non- instrumental thinking. They naturally have to balance their political interests with other considerations such as scientific advice.
US President Barack Obama, addressing the media from Alaska several days ago articulated his views on climate change and the need to adopt rational public policies to address the issues involved, though many conservative political and business leaders continue to oppose any radical shift in public policy with respect to non-renewable energy.
His views on the subject reflect scientific knowledge advanced by researchers across the world. This is what knowledgeable people expect from enlightened political leaders. Unfortunately, there are not many enlightened political leaders who live up to such high public expectations.
We do not seem to have many such leaders in this country, despite the fact that various challenges facing the country demand policy interventions guided by scientific knowledge.





The need for a smaller and rationally constituted Cabinet for the country is obvious to many right thinking people. In fact, many successive governments after independence managed with less than twenty Ministers.
Given the fact that, after the 13th Amendment to the Constitution that led to the formation of Provincial Councils at sub-national level with powers over many devolved subjects coming under their purview, the need for too many Ministries at national level declined significantly.
For instance, health, education and many other subjects are devolved to the Provincial Councils and the central government Ministries are expected to deal with larger issues of national policy and national programs related to these subject areas.
But, ironically, ever larger Cabinets were formed even after 1987, creating more ministries dealing with the same subjects.
This naturally has devalued the functions of the PCs leading to the widespread public perception that these are useless institutions, unnecessarily wasting public funds.
Meanwhile, the integrity of the central government administration that could be easily observed even in 1948 has been gradually and steadily eroded over time. The subject areas that would have been kept together under one ministry for better coordination and integration were often divided up to create more ministries to accommodate various individuals.
The resulting duplication of function, lack of coordination among related institutions and unnecessary wastage of public funds have not been of much concern to political leaders. So, the argument for a smaller and well constituted Cabinet of Ministers is a reasonable one that can be easily acceptable to people who are accustomed to rational thinking.




A scattered government is not conducive for the formulation and effective implementation of public policies in critical sectors. It is always better to keep closely related subject areas under one Ministry.
For instance, agriculture, land and irrigation are better managed under a single Ministry. There are many other areas where cognate subjects are better managed together than in isolation of each other.
But, what we have seen in the recent past is almost total absence of such good governance practices. On the other hand, in spite of repeated public pronouncements by the incumbent President to the contrary, today we see not only yet another large Cabinet but also splitting up of subject areas in a largely irrational manner. As, I have noted in a few of my earlier articles, we human beings are guided by both ideas and interests.
While our beliefs, knowledge and values influence us in our day to day decisions, self preservation is a need that we usually do not or cannot ignore. In other words, self interest is a human imperative that is not always moderated by higher values and morals.





Those who go beyond self interest and give expression to higher ideals and values, I.e. public welfare, equality, peace and justice, may not reap quick and tangible personal benefits but may eventually be recognized as persons who contributed to public good and even humanity.
They might even be elevated to a higher position of veneration by others. But such individuals are rare in human history.
Higher public office offers those who hold such positions to do the right thing and be counted but not many have a tendency to do so, for reasons best known to them.
In modern democracies, we have to keep trying, until we eventually find a leader who lives up to our expectations.
Democracy, unlike other forms of government, at least leaves the options open. On the other hand, the pressing problems in the country demand solutions now and cannot be left to a future government to solve. It is hoped that the leaders understand this.STRAP Political decisions that defy logical reasoning
---
Add comment

Comments will be edited (grammar, spelling and slang) and authorized at the discretion of Daily Mirror online. The website also has the right not to publish selected comments.

---