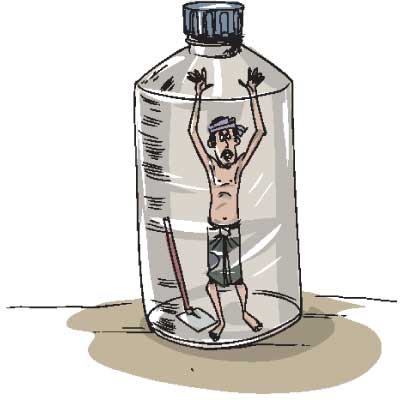 For thousands of years, agriculture has not only provided millions of Sri Lankans with our staple food but has also been part of our culture and civilization. Famous ancient engineering marvels like the Parakrama Samudra were built to sustain Sri Lanka's agriculture while the farmers played such a noble role that a well-known British author said that when the mud was washed off the back of the farmer, he was fit to be a king.

Unfortunately after the imposition of the globalised capitalist market economic system, agriculture to a large extent has lost its cultural roots and is today mainly an agri-business. Implanting themselves strongly here are the transnational agro-chemical corporations and their agents who have used sophisticated and sometimes devious methods to dump their chemical fertilizers, pesticides and weedicides on our soil. So much has been used for the past four decades that agricultural scientists say our Mother Earth has been polluted or poisoned and is fast loosing its fertility. The agrochemicals, some of them toxic, have gone down the soil and polluted the ground water to such an extent that thousands of farmer families have been afflicted by the deadly kidney epidemic.

Some scientists and secret agents of the transnational corporations argue that switching back to organic agriculture is not possible or practical. They need to be reminded that for thousands of years before 1977 Sri Lanka's agriculture flourished on natural or organic fertiliser. As the Daily Mirror said in an earlier editorial, these TNCs had produced chemical weapons for World War II, the wars in Korea and Vietnam. After these wars ended in the 1970s, these TNCs had to find the market for their chemicals and third world countries like Sri Lanka became dumping grounds for these agro-chemicals, with deadly consequences. Today millions of litres of our precious groundwater has been polluted and most of the food items we eat have also been contaminated by chemical poisons. We are knowingly or unknowingly giving such poisonous food to our children also. With two days remaining in the campaigning for Monday's general elections, we need to deeply reflect on what the major alliances intend doing about this crisis.

Prime Minister and United National Front for Good Governance Leader Ranil Wickremesinghe, said in a widely-watched television interview on Tuesday night that his government would review the whole agricultural policy and see how Sri Lanka could gradually move back into organic agriculture in the aftermath of the major consequences of the widespread use or abuse of agro-chemicals. He said while thousands of farmers were suffering from the deadly kidney disease, Sri Lanka had only about 160 dialysis machines. The Prime Minister said his government would immediately import about 1,000 dialysis machines and train paramedical personnel to handle them. Equally important, he said the import of agro-chemicals would be reviewed and that was why the UNFGG in its five-point plan did not promise to provide fertilizer subsidies to farmers. The Prime Minister said he did not agree with the policy of importing cheap fertiliser and giving it at subsidized rates to farmers who in turn were using excessive amounts to get bigger harvests but in the process were poisoning the priceless soil and the food.

The United People's Freedom Alliance (UPFA) whose campaign is being led by former president Mahinda Rajapaksa, has accused the UNFGG of trying to destroy agriculture by not offering a subsidy for chemical fertilizer. While offering a bigger fertilizer subsidy, a guaranteed price of Rs.50 for a kilo of paddy and a host of other incentives to the farmers, the UPFA's commitment to organic agriculture is vague. We hope the UPFA, the Janatha Vimukthi Peramuna and other parties will cooperate with President Maithripala Sirisena and the UNFGG to pull our farmers out of the agro-chemical mud holes and restore Sri Lanka's agriculture with the use of organic fertilizer. Though the process is more difficult it is an important dimension for us to grow into a new Sri Lanka.
---
Add comment

Comments will be edited (grammar, spelling and slang) and authorized at the discretion of Daily Mirror online. The website also has the right not to publish selected comments.

---