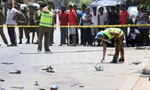 No arrests have been made in connection with the Kotahena shooting which killed two people and injured 12 others despite repeated claims that underworld gangsters were involved in the fracas.
Police Spokesman Ruwan Gunasekara said the CID detectives were still sifting through the evidence and checking on the clues before arresting any suspects.
"The matter has been handed over to the CID which is conducting investigations but no suspects have been arrested yet," he said.
The deputy minister of justice had said that the July 31 shooting had underworld connotations.
Meanwhile the United Peoples Freedom Alliance (UPFA) claimed that it was the result of some government politicians associating with underworld gangsters.
Most of those injured in the shooting had been discharged with four people still under treatment at the Colombo National Hospital.
(Darshana Sanjeewa)