Rabindranath Tagore, one of India's if not Asia's greatest philosophers has said that marriage in India—and in Sri Lanka also—is a form of glorified prostitution because of the dowry system. Women and girls are put in the market place for sale—something like Rs. five million for a medical doctor, four million for an engineer and three million for an accountant or lawyer not to mention road contractors who build highways paved with gold.

The Janatha Vimukthi Peramuna (JVP) in an ele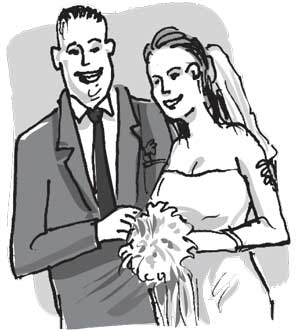 ction manifesto that is widely seen as the most enlightened though somewhat idealistic also is proposing that the dowry system be scrapped and made illegal as part of the socio-cultural transformation to bring about gender equality and women's rights.

In a subchapter on the broader topic of a just and fair society, the JVP refers to the rights of women and children. It says women and men will be guaranteed equal rights in all sectors while removing obstacles and pressures faced by women. Equal rights and respect will be guaranteed to women before the law while taking away cultural and social inhibitions. The dowry system will be halted to stop the difficulties and social inequalities faced by women in marriages. According to the manifesto the decision on bearing children will be solely the right of the woman.

According to the manifesto it will be made compulsory for children to receive a school education until the age of 16. The employment of children below the age of 16 will be banned.

Some 20 years after the death of the Bengali polymath Tagore whose expertise spans a significant number of different subject areas and who is ranked in the world with legends such as Galileo and Leonardo Da vinchi, India introduced a law to ban the dowry system.

According to research done by academic Kaushani Pathirana of the Colombo University's Faculty of Law, most countries including those in South Asia have started to include specific measures into their domestic laws to protect women's rights to comply with international standards. However the tragic situation is that when implementing these laws, the objectives to promote and protect human rights of women are diminished or negated by the impact of some extraneous factors. Such factors she says, are rooted in social, cultural, religious, political and other patriarchal social values.

Dowry is the one of the critical areas which contradicts international standards, but still prevails with the support of these extraneous factors. The matter of dowry is yet to be addressed by the legislature or the judiciary in Sri Lanka. We need a new policy to prohibit dowry in Sri Lanka in the light of Indian Dowry Prohibition Act of 1961, Ms. Pathirana says.

The Sri Lankan context indicates that dowry has over time transformed into a marriage gift to the bridegroom in most communities. Dowry still prevails in the Sinhala and Tamil communities as a customary requirement. Dowry has both social and legal legitimacy in Sri Lanka and most of the times it is openly referred to in marriage advertisements in public newspapers.

However, this practice of dowry in its manifestation undervalues women and commercializes the marriage relationship. Nonpayment of dowry has result in harassment, violence against women, breakdown of spousal relationships and conflict with extended family, the academician warns.

Though Sri Lanka has ratified the United Nations convention on the elimination of all forms of discrimination against women, there are some hidden malpractices which violate the rights of women in Sri Lanka. Dowry is one of those, which can be identified as a harmful traditional practice in Sri Lanka. The current evidence indicates that this is the time to adopt new laws and policies to eliminate the practice of giving and taking dowry. The academician points out that though the India's Dowry Protection Act (DPA) was intended to eliminate inequality it has not been implemented in a practical manner because of several factors. However, it is a significant improvement of the legislative history of India. She has suggested that Sri Lanka should implement a better mechanism to prohibit dowry practices by introducing an effective transformation of law by adopting the DPA of India as a model with certain amendments.

We hope that not only the JVP but the two major alliances also will support the introduction of such a law as a major step towards guaranteeing women's rights and gender equality.
---
Add comment

Comments will be edited (grammar, spelling and slang) and authorized at the discretion of Daily Mirror online. The website also has the right not to publish selected comments.

---